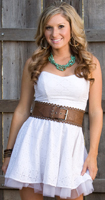 Ali Dee Named Entertainment Host at Lone Star Park
Ali Dee, an award-winning television host, who is known locally as the "First Lady of the Dallas Mavericks," has joined the Lone Star Park broadcast team as its new Entertainment Host.
In her new role, Dee will provide entertainment news before and during live racing at Lone Star Park on Big Event Saturdays and on Friday nights. She will do live spots from various locations throughout the track, including the paddock, winner's circle and the Courtyard of Champions, where there will be a live Party at the Park band playing every Friday night.
"Ali will bring a new level of excitement to our Friday night Party at the Park and our Big Event Saturdays," said Lone Star Park Director of Marketing Kim Bordano. "She's a familiar face and very popular with local sports and music fans, who know her from her work with the Dallas Mavericks and the recent NBA All-Star Game, as well as her appearances as a country music artist."
"This new position as Entertainment Host at Lone Star Park is an exciting opportunity for me," said Dee. "I'll have the chance to interact directly with the fans while helping to promote the fun and great entertainment that is available at the track. Plus, I'm really looking forward to being around the horses."
In her role with the Dallas Mavericks, Dee can be seen on the court at the American Airlines Center, as the in-arena host during their home games, as well as the host of Mavs Insider on Fox Sports Southwest. She also hosts a live pre-game show called the Party on the AT&T Plaza.
Dee, who has been with the Mavericks for three seasons, recently worked for the league during the NBA All-Star Game at Cowboys Stadium, which drew the largest All-Star Game crowd in league history.
She has also appeared on ABC, ESPN, CMT, NBC, FSN NW, Cheer Channel, Comcast and more, in various roles as an on-camera talent. Her commercial work clients have included Hilton Hotels, Discovery Channel Store, Budweiser, Red Bull, Ace Hardware, and Grand Pacific Resorts. Her broadcasting career has also taken her abroad to beautiful locations like England, Ireland, Germany and France.
In addition to her on-air career, Dee performs as a country music artist throughout Texas in the Red Dirt scene and has shared the stage with artists such as No Justice, Bart Crow, Johnny Cooper, Mark McKinney, Granger Smith, Phil Hamilton and the Backroad Drifters, Cash Cooper, Jackson Taylor, Darren Kozelsky, and many more. She is currently recording her debut album.