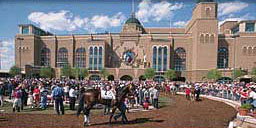 Lone Star Park's Opening Weekend Results in 29-Percent Increase in Attendance
Lone Star Park at Grand Prairie concluded the opening weekend of its 12th Spring Thoroughbred Season with a 29-percent increase in attendance. In total, 44,880 fans attended Lone Star Park's opening weekend from Thursday, April 10 through Sunday, April 13, 2008, a 29-percent increase.
With one less race this year, total handle for the weekend decreased by 5.6-percent, to $7,415,715 from $7,860,992 in 2007. In addition, the wagering total was negatively impacted due to the decision of the Texas horseman to prohibit the Lone Star Park simulcast signal from being sent to account wagering outlets.
"We are very pleased with our opening weekend attendance and business levels," said Lone Star Park President and General Manager Drew Shubeck. "Our past history has shown when we have had a big opening weekend like this, we've gained tremendous momentum that led to a very successful season.
"This year, we introduced several new features to our customers including a new ticketing system that featured an online ticketing option as well as a new VIP Concert package, which were both received very positively," said Shubeck. "Our overall business reflects the fact that we are one of the top entertainment attractions in the competitive Dallas/Fort Worth market. We faced the Dallas Stars NHL playoff opener, the Dallas Mavericks home game against Utah and the Texas Rangers' doubleheader all on opening night. Plus, the Masters PGA golf tournament began on Thursday.
The opening weekend's business was driven by two big concerts. Gary Allan attracted 15,132 customers on Friday night, and local-favorite Miranda Lambert drew 12,125 on Saturday. After drawing a crowd of 8,365 on opening night on Thursday, April 10, Lone Star Park concluded the weekend with an attendance of 9,258 on Sunday.