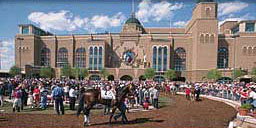 Asmussen First Trainer to Reach 1,000 Wins at Lone Star Park
(Grand Prairie, Texas - Sunday, April 15, 2012) - Trainer Steve Asmussen became the first person to notch 1,000 career wins at Lone Star Park, when Primal Jones won Saturday's second race at the Grand Prairie, Texas racetrack during the 16th Spring Thoroughbred Season.

Asmussen, the two-time Eclipse-Award winning trainer (2008-09), has won the training title at Lone Star for a record 11 seasons. With Saturday's victory, the Arlington, Texas resident has amassed earnings of over $22 million dollars since sending out Double Fortune, for his first win on April 17, 1997, at the Grand Prairie Track.

In addition to being Lone Star's career win leader, Asmussen holds track records for career stakes victories (71), career earnings ($22,426,734 million), single season earnings ($2.2 million in 2001), single season stakes wins (eight in 1999), single day stakes wins (four on Memorial Day, 2004) and single day wins (seven on July 14, 2002).
Notes:
Opening Weekend Recap - Lone Star Park wrapped up its 16th Spring Thoroughbred Season today with the first "alternate-breed" racing during the Spring Thoroughbred season featuring live Ostrich and Camel races on the main track. Between the seventh and eighth races, jockey Patrick Boxie came out of retirement to win the first-ever Ostrich race in the Thoroughbred season. Boxie piloted #1-Big Bird to a convincing victory in the one-sixteenth mile affair. In the nightcap after the ninth race, Jockey Beverly Burress, held on to win the Camel Race also run at one-sixteenth mile aboard #4-Foxy 4.

Media Celebrities in the House - Local DFW media celebrities represented each participating camel in today's races on behalf of designated charities. Channel 33 "Eye Opener DFW" reporter Danielle Vollmar represented Camel #1 - "Dash for Dan"; KVIL's 103.7 "Gene & Julie" represented Camel #2- "BreakDaGate"; Sportsradio 1310 "The Ticket's" Norm Hitzges represented Camel #3 - "Ticket to Arabia" and Fox-4's "Good Day Dallas" reporter Fiona Gorostiza represented the #4 Camel - "Foxy 4".

Charity Donations - All proceeds generated from today's camel races were donated to the Dog and Kitty City, a no-kill animal shelter operated by the Humane Society of Dallas; St. Alcuin Montessori School, an independent, non-sectarian, co-educational day school in Dallas; the Austin Street Shelter, an emergency shelter assisting the homeless people of Dallas; and Single Parent Advocate, a non-profit organization committed to educating, equipping and empowering single parents with resources, practical assistance, emotional encouragement and social networking to better their lives and those of their children.

Opening Weekend Attendance - Despite threatening weather all weekend and rain this morning, a total of 47,539 people attended opening weekend this year. The number ranked as the second highest opening weekend attendance since 2004. Friday night's Randy Rogers Band, which drew a crowd of 18,503 for a post-race concert, highlighted the weekend. Nashville recording artist Gary Allan drew 13,416 last night. A total of 50,471 customers attended last year's opening weekend.