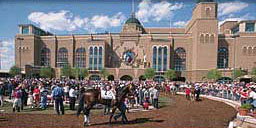 Lone Star Park Draws 50,471 Fans for Opening Weekend
(Grand Prairie, Texas - April 17, 2011) - Lone Star Park concluded opening weekend of its 15th Spring Thoroughbred Season with a 16 percent gain in attendance and 10 percent jump in on-track live betting compared to 2010 business levels.

Bolstered by post-race performances from the Randy Rogers Band and Ted Nugent, Lone Star Park attracted 50,471 fans opening weekend. The sixth largest opening weekend attendance since the track opened for live racing in 1997, and the largest since 2004 when 55,531 fans attended Lone Star Park's opening weekend festivities. A total of 43,358 fans attended Lone Star's opening weekend in 2010.

Wagering, both on and off-track, totaled more than $5.34 million versus $5.04 million in 2010. A major contributing factor was an increase in average number of starters from 8.4 horses per race during opening week in 2010 to 9.4 starters per race in 2011. Wagering on-track totaled $1.67 million versus $1.52 million in 2010.

"We're thrilled about the response to the opening of our 2011 live racing season," said Lone Star Park President and General Manager Drew Shubeck. "Fans really responded well to our racing and promotions, and we feel like we're building momentum. With the Kentucky Derby fast approaching, and five more concerts scheduled for our Music Series, we're going to do everything we can to build on this positive start."

"We'd like to thank all the horsemen and the fans for their support," added Shubeck.

The gathering of 20,340 for the Randy Rogers Band on Friday night, the fifth largest non-fireworks, post-race concert in Lone Star Park history, ranks just ahead of the 20,302 fans that came to see Willie Nelson in concert on April 16, 2004. Only Willie Nelson, Pat Green, and Cross Canadian Ragweed have drawn more people to Lone Star Park for a non-fireworks concert than the Randy Rogers Band.

Future 2011 Lone Star Music Series concerts include: Casey Donahew Band on Friday, May 6; Eli Young Band on Friday, June 10; Stoney LaRue on Friday, June 24; Reckless Kelly & Josh Abbott Band on Friday, July 8 and Dwight Yoakam on Friday, July 9.

Live Racing Resumes Thursday night with a first-race post time of 6:35 p.m.