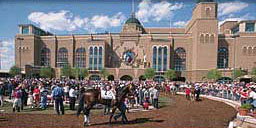 Lone Star Park Announces 6% Purse Cuts Starting on May 22
Lone Star Park announced on Sunday, May 10 that it will cut overnight purses by six percent effective Friday, May 22. In addition, the $50,000 Alysheba Stakes, scheduled for Saturday, June 27 will be suspended and not be run in 2009. Also, three $100,000 stakes – Assault Stakes (Saturday, July 11), Silver Spur Stakes (Saturday, July 25) and Middleground Stakes (Sunday, July 26) – have had their purses reduced by $25,000 to $75,000.
"We are extremely disappointed, but like all other tracks in North America, we are experiencing a downward trend in handle across the board that requires us to make these cuts," said Lone Star Park President and General Manager Drew Shubeck in making the announcement. "Unfortunately, the continued soft local and national economy makes this necessary.
"We continue to provide our loyal fans with a great customer experience and one of the best entertainment values in the Dallas-Ft. Worth area," added Shubeck. "We are looking forward to the excitement of the next two legs of the Triple Crown as well as our big event days throughout the rest of our meet."