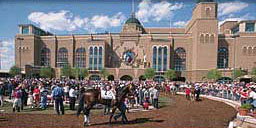 Jockeys & Java Returns to Lone Star Park May 25
(Grand Prairie, Texas - Wednesday, May 22, 2013) - Make plans to join Lone Star Park for the return of its popular Jockeys & Java program beginning Saturday, May 25 at 8:30 a.m. and continuing each Saturday through July 6, 2013.
Watch hundreds of horses as they go through their morning workouts and enjoy a delicious, free breakfast of a danish, breakfast burrito, coffee and juice in the Courtyard of Champions at Lone Star Park.

Learn about what happens behind the scenes at Lone Star Park with Track Announcer John Lies, who will host the morning workouts and talk with special guests, including jockeys, trainers, industry professionals and some of the people that have the most important jobs at the racetrack.

Lies' guests for the opening program on Saturday, May 25 at 9:00 a.m. will be jockey Eswan Flores and apprentice jockey Alfredo Sanchez Sigala. The interview will be followed by a question and answer session.
Following the workouts at 10:00 a.m., fans are invited to take a behind-the-scenes trip to the backstretch, visit a trainer's barn and see the horses up close. Everyone in attendance will receive a Lone Star Track Pack with coupons for free general admission and a Lone Star Today racing program for live racing.

For additional information, visit LoneStarPark.com or call 972-263-RACE (7223).