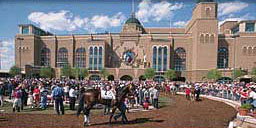 Average Daily Attendance Increases 10 Percent During Lone Star Park's 2011 Thoroughbred Meeting
(Grand Prairie, Texas - July 10, 2011) - Lone Star Park ended its 52-day, 2011 Spring Thoroughbred Meeting with a 10 percent increase in average daily attendance. The largest average daily attendance increase in Lone Star Park history. Average daily attendance increased to 7,621 from 6,952 for 60 days in 2010. Overall, 396,281 fans came through the turnstiles for live thoroughbred racing at Lone Star Park in 2011, which was conducted from Thursday, April 14 through Sunday, July 10.

"We are extremely pleased with a 10-percent increase in average daily attendance despite the 3rd hottest June in Dallas/Fort Worth History, an historic NBA World Championship run by the Dallas Mavericks, and record attendance by the Texas Rangers," said Lone Star Park President and General Manager Drew Shubeck. "These results show that horseracing is a viable entertainment offering in one of the most competitive sports and entertainment markets in the country. The future is even brighter as we look forward to the multi-million dollar renovations by our new owner, Global Gaming Solutions, that begin next week."

John Elliott, Chief Executive Officer of Global Gaming Solutions, was also pleased with the meeting.

"We're thrilled with the results from the Thoroughbred season and we will continue to reenergize Lone Star Park with Global Gaming Solutions entertainment expertise and capital improvements," Elliott said. "We'd like to extend a hearty congratulations to all horsemen, customers and employees whose hard work, dedication and persistence kept Lone Star Park a viable entertainment option the past three seasons, during a difficult transition with bankruptcy, ownership change and a poor economy."

*Average daily on-track wagering showed positive gains over 2010 levels as well. On track average daily wagering was $302,187 representing a 4-percent increase over last year's average of $290,569. A total of $15.7 million was wagered on live racing at Lone Star Park this year compared to $17.4 million with eight extra days in 2010.

*Average daily simulcast out was $762,653 in 2011 compared to $833,915 in 2010. An 8.5 percent decrease.

*Average daily wagering on the live product experienced a 5-percent decline from $1,124,843 last year compared to $1,064,840 in 2011.

*Average daily wagering on simulcasting into Lone Star Park dropped 12 percent from $506,109 in 2010 to $447,324 this year.

*Average All-Sources wagering slipped 7 percent from $1.63 million last year to $1.51 million in 2011. Total All-Sources handle was $78.6 million for the 52 days of racing this year. The total for 60 days in 2010 was $97.8 million.

(Note: Final simulcast in and All-Sources totals will not be final until the completion of simulcasting in the Post Time Pavilion tonight.)

"We're happy with the live product wagering numbers, especially the live on-track handle average increase," said Shubeck. "We continue to be disappointed in the simulcast out number. This decline is a signal that the national simulcast customer is telling us they are not interested in our product offering. We need to continue to work with our new owners, Remington Park and other Texas racetracks to improve the quality of racing, not only at Lone Star Park, but throughout the region."

"The decreases in our on-track and all sources handle are consistent with what's happening around the country and largely due to the national economic downturn," explained Shubeck. "Although illegal, the continued penetration of internet wagering into our market is a major challenge, and until legislation is passed in Texas that regulates advanced deposit wagering, we will continue to lose jobs and valuable purse money for Texas horsemen."

Attendance Highlights From The 2011 Lone Star Park Thoroughbred Season:
50,471 fans attended Lone Star Park for opening weekend festivities. Bolstered by post-race performances from the Randy Rogers Band and Ted Nugent, it was the sixth largest opening weekend attendance since the track opened for live racing in 1997, and the largest since 2004 when 55,531 fans attended opening weekend. 43,358 fans attended Lone Star Park's opening weekend in 2010.
The 14,379 fans that showed up on Kentucky Oaks Day represent the highest Oaks Day attendance in Lone Star Park History. Add in the 16,470 that attended Kentucky Derby Day at the Grand Prairie facility, and the 30,849 fans represent the third highest attendance for Oaks-Derby Weekend in track history, an 8.7 percent increase over the 28,379 that attended Lone Star Park for the same two days in 2010. The two-day total represents the highest since 1998 when 31,236 were in attendance.
The gathering of 24,152 for the Eli Young Band Friday, June 10 represents the largest non-fireworks post-race concert in Lone Star Park history, surpassing the 23,656 that attended Cross Canadian Ragweed on June 17, 2005. The Lone Star Music Series continues to be popular drawing 107,376 people from seven concerts.

On the track, there were a total of 4,243 starters in 477 races compared to 4,689 runners in 564 races during the 60-day meeting in 2010. Average field size was 8.9 per race, an increase of 0.6 (7 %) from last year's average of 8.3.

Average daily purses increased 7 percent from $150,871 last year to $161,719 in 2011.

With 66 wins, Lone Star Park's all-time leading rider Cliff Berry won his fourth riding title. Berry previously won the Lone Star Park riding title in 2005, 2006, and 2008. Chris Landeros, the 2009 and 2010 Lone Star Park riding champion, finished second with 61 winners and Luis Quinonez finished third with 53 wins.

Trainer Bret Calhoun captured his second consecutive Lone Star Park training title with 50 wins. Calhoun recorded his first Lone Star Park training title in 2010 with 62 wins during the 60-day stand. Karl Broberg claimed the runner-up spot in the trainer standings with 36 wins, and Lone Star Park's all-time leading trainer Steve Asmussen finished third with 33 wins. Asmussen is three wins shy of becoming the first trainer to record 1,000 wins at Lone Star Park.

For the fourth straight year, Lone Star Park's all-time leading owner, Tom Durant, captured the owner title. After setting a single season record for wins in 2010 with 37, Durant claimed the 2011 title with 18 wins. This marks the eighth owner's title at Lone Star Park for Durant who previously won the award in 2010, 2009, 2008, 2005, 2004, 2000 and 1998.

Wasted Tears, winner of the $200,000 Ouija Board Distaff (G3) May 30 was named the Horse of the Meet. In winning the 2011 Ouija Board, the six-year-old daughter of Najran captured the premier event for fillies and mares at Lone Star Park for a third consecutive year.

Rose Mary Chandler's Skip a Smile, trained by Steve Asmussen, winner of the $75,000 Assault Stakes July 9 on Stars of Texas Day, was voted the meet's Champion Texas-Bred. Skip a Smile is a four-year-old son of Skip Away, out of the Strawberry Road mare Strawberry Smile.

Texas-bred Sword Trick earned Champion Two-Year-Old honors. The bay son of Early Flyer earned the vote with an authoritative victory in the $100,000 Texas Stallion Stakes (Staunch Avenger Division) July 9 on Stars of Texas Day.

Also earning end of meeting honors, Matt Seifers for top apprentice rider, and Valid Message for Claimer of the Meet.