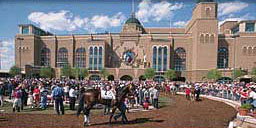 $1 million Texas Classic Futurity Tops Lone Star Park Fall Meeting of Champion Stakes Schedule
Five Grade 1 events, topped by the 15th running of the $1 million-estimated Texas Classic Futurity, will highlight Lone Star Park at Grand Prairie's 10th Fall Meeting of Champions for American Quarter Horses. All told, 27 stakes events cumulatively worth $2,618,000 will be run during the nine-week meeting, which begins Friday, Oct. 5 and continues for 32 nights through Saturday, Dec. 1.
Racing programs will be staged every Wednesday through Saturday at 6:35 p.m. CT, except for a special 5 p.m. CT first live race on Saturday, Oct. 27 to immediately follow a simulcast of the Breeders' Cup World Championships from Monmouth Park. Also, there will be no live racing on Wednesday, Nov. 21 and Thursday, Nov. 22 due to the Thanksgiving holiday.
As was the case a year ago, Lone Star Park's premier Grade 1 races for 2- and 3-year-olds will be run on the same night. The Texas Classic Futurity - annually the state's richest horse race - and $400,000-estimated Texas Classic Derby are scheduled for the Dec. 1 closing night program. The $450,000-estimated Dash For Cash Futurity and $175,000-estimated Dash For Cash Derby will be run Saturday, Oct. 27.
The 10 fastest times in trial races will determine the fields for the lucrative Dash For Cash and Texas Classic finals. Trials for the Dash For Cash are set for Friday, Oct. 12 (Derby) and Saturday, Oct. 13 (Futurity). Texas Classic trials will be held Friday, Nov. 16 (Derby) and Saturday, Nov. 17 (Futurity).
Another signature race at the meet is the Grade 1, $100,000 Refrigerator Handicap. The winner of the 440-yard event for 3-year-olds and up annual receives an automatic berth to Grade 1, $1 million Champion of Champions, which is scheduled for Saturday, Dec. 15 at Los Alamitos Race Course in Cypress, Calif.
In addition to Quarter Horses, there will be stakes events for Paint, Appaloosa and Arabian horses. The second running of the $65,000 Lone Star Park Paint & Appaloosa Futurity is scheduled for Saturday, Nov. 24, with trials to be held on Saturday, Nov. 10. This year, there are also six stakes events for Arabians.
Another popular fixture at the meet is the $15,000 Gridiron Gallop Handicap - the world's shortest stakes race at 100 yards. Typically run a shade above six seconds, the sprint is scheduled for Saturday, Nov. 3 - the same evening there will be a simulcast of the Bank of America Challenge Championships (formerly known as the MBNA America Challenge Championships) from Los Alamitos.
Lone Star Park at Grand Prairie
2007 Fall Meeting of Champions
Stakes Schedule
| | | | | |
| --- | --- | --- | --- | --- |
| DATE | EVENT | CONDITIONS | DISTANCE | PURSE |
| Fri. Oct. 5 | Classic Chevrolet Heartbeat of America Handicap (Restricted Grade 3) | TX 3YO & Up | 350 Yards | $30,000 |
| Sat. Oct. 6 | Refrigerator Handicap (Grade 1) | 3YO & Up | 440 Yards | $100,000 |
| Sat. Oct. 6 | Red River Handicap | 3YO & Up | 870 Yards | $17,500 |
| Fri. Oct. 12 | Trials—Dash For Cash Derby (Grade 1) | 3YO | 440 Yards | |
| Fri. Oct. 12 | Kool Kue Baby Handicap | F&M, 3YO & Up | 350 Yards | $20,000 |
| Sat. Oct. 13 | Trials—Dash For Cash Futurity (Grade 1) | 2YO | 400 Yards | |
| Sat. Oct. 20 | Grand Prairie Classic | 3YO | 870 Yards | $15,000 |
| Sat. Oct. 20 | Tiki Diablo Arabian Stakes | Arabian 3YO & Up C&G | 1 Mile | $9,000+ |
| Sat. Oct. 20 | Texas Arabian Distaff Stakes | Arabian F&M, 3YO & Up | 1 Mile | $9,000+ |
| Fri. Oct. 26 | 6666 Ranch Handicap | 3YO & Up | 400 Yards | $20,000 |
| Sat. Oct. 27 | Dash For Cash Futurity (Grade 1) | 2YO | 400 Yards | $450,000* |
| Sat. Oct. 27 | Dash For Cash Derby (Grade 1) | 3YO | 440 Yards | $175,000* |
| Sat. Oct. 27 | Dash For Cash Juvenile Stakes | 2YO | 400 Yards | $40,000* |
| Sat. Nov. 3 | JEH Stallion Station Handicap | 3YO & Up | 550 Yards | $20,000 |
| Sat. Nov. 3 | Gridiron Gallop Handicap | 3YO & Up | 100 Yards | $15,000 |
| Sat. Nov. 10 | Trials—Lone Star Park Paint & Appaloosa Futurity | Paint & Appaloosa 2YO | 350 Yards | |
| Sat. Nov. 10 | B.F. Phillips Jr. Handicap (Restricted Grade 3) | TX 3YO & Up | 400 Yards | $30,000 |
| Sat. Nov. 10 | Cassels Bruczest Arabian Stakes | Arabian TX 3YO & Up C&G | 6 Furlongs | $7,500+ |
| Sat. Nov. 10 | H F Orzonna Arabian Stakes | Arabian TX F&M, 3YO & Up | 6 Furlongs | $7,500+ |
| Fri. Nov. 16 | Trials—Texas Classic Derby (Grade 1) | 3YO | 440 Yards | |
| Sat. Nov. 17 | Trials—Texas Classic Futurity (Grade 1) | 2YO | 400 Yards | |
| Sat. Nov. 24 | Lone Star Park Paint & Appaloosa Futurity | Paint & Appaloosa 2YO | 350 Yards | $65,000* |
| Sat. Nov. 24 | Lone Star Park Distance Championship | 3YO & Up | 870 Yards | $20,000 |
| Sat. Nov. 24 | Olympia Joe Paint & Appaloosa Handicap | Paint & Appaloosa 3YO & Up | 400 Yards | $12,500+ |
| Fri. Nov. 30 | Hipòdromo de las Américas Stakes | 2YO C&G | 400 Yards | $15,000 |
| Fri. Nov. 30 | Joe B. Turner Memorial Stakes | 2YO F | 400 Yards | $15,000 |
| Fri. Nov. 30 | Mandolynn Hill Farm Stallion Stakes (C&G Div.) | Arabian 3YO & Up C&G | 7 Furlongs | $15,000+ |
| Fri. Nov. 30 | Mandolynn Hill Farm Stallion Stakes (F Div.) | Arabian F&M, 3YO & Up | 7 Furlongs | $15,000+ |
| Sat. Dec. 1 | Texas Classic Futurity (Grade 1) | 2YO | 400 Yards | $1,000,000* |
| Sat. Dec. 1 | Texas Classic Derby (Grade 1) | 3YO | 440 Yards | $400,000* |
| Sat. Dec. 1 | Texas Classic Futurity Consolation | 2YO | 400 Yards | $75,000* |
| Sat. Dec. 1 | Rheudasil Handicap | 3YO & Up | 350 Yards | $20,000 |
* Estimated Purse
+Added