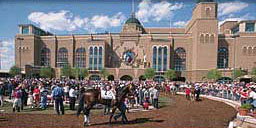 $1 Million Texas Classic Futurity Tops $2.49 Million Fall Meeting of Champions Stakes Schedule
(Grand Prairie, Texas - Monday, August 22, 2016) - Mark your calendars! It's almost time to witness the world's fastest athletes compete at Lone Star Park. The 2016 Fall Meeting of Champions for American Quarter Horses begins Friday, September 16 and runs through Saturday, November 12.

On the schedule are 19 stakes races worth a cool $2.49 million, including nine with graded status, to be run during the 26-day meeting. Live racing will be held every Thursday, Friday and Saturday night after the opening weekend. Gates open each scheduled race night at 5:30 p.m. with a first race post time of 6:35 p.m.

Opening night, Friday, September 16, the stakes action kicks off with the $20,000-guaranteed Nevill Stakes for Texas-breds, three-year-olds & up, at 350 yards.

The signature event of the tracks 19th fall season is the Grade 1, $1 million-estimated Texas Classic Futurity, the richest horse race run annually in the state. It will be held on the final night of the meeting, Saturday, November 12. The Grade 1, $400,000-estimated Texas Classic Derby is also a part of the closing night program.

Trials for the Texas Classic Futurity will be held on Saturday, October 22, and for the Texas Classic Derby on Friday, October 21. The 10 fastest times from the trials will advance to the finals.

Saturday, October 1, features three stakes races on the card headlined by the Grade 1, $75,000-guaranteed Refrigerator Handicap for three-year-olds & up at 440 yards. On the undercard are the $25,000 Merial Distaff Challenge for fillies & mares, three-year-olds & up at 400 yards and the $20,000 AQHA Distance Challenge for three-year-olds & up at 870 yards.

In addition to the Grade 1 Texas Classic Futurity and Derby, and the Grade 1 Refrigerator Handicap, the other graded stakes races for American Quarter Horses during the meet are the Grade 2, $450,000-estimated Dash for Cash Futurity and the Grade 3, $150,000-estimated Dash for Cash Derby. Both are scheduled for Saturday,
October 8.

Trials for the Dash for Cash Futurity will be held Saturday, September 24, and for the Dash for Cash Derby, on Friday, September 23. The top 10 fastest times from those trials will advance to the finals.

Graded stakes for Paint and Appaloosa horses, as well as Arabians, are scheduled during the Fall Meeting of Champions. The Grade 1, $50,000-added Lone Star Speedhorse Paint & Appaloosa Futurity is Saturday, October 29. Trials are Saturday, October 14.
A pair of divisional Grade 3, $20,000 Arabian Stallion Stakes races will take place on Thursday, October 13.
These are just part of the action-packed stakes races scheduled during the approaching season.
Lone Star Park's 2016 Fall Meeting of Champions Stakes Schedule at a glance:
Date
Race
Conditions
Friday, Sept. 16
$20,000 Guaranteed Nevill Stakes
Texas-Bred, 3-yr-olds & up, 350 yards
Saturday, Oct. 1
$20,000 Added AQHA Distance Challenge
3-yr-olds & up, 870 yards
Saturday, Oct. 1
$25,000 Added Merial Distaff Challenge
f & m, 3-yr-olds & up, 400 yards
Saturday, Oct. 1
$75,000 Guaranteed Refrigerator Handicap (G1)
3-yr-olds & up, 440 yards
Saturday, Oct. 8

$150,000 Estimated Dash for Cash Derby (G3)

Trial Date - Friday, Sept. 23

3-yr-olds, 440 yards
Saturday, Oct. 8

$450,000 Estimated Dash for Cash Futurity (G2)

Trial Date - Saturday, Sept. 24

2-yr-olds, 400 yards
Saturday, Oct. 8
$45,000 Estimated Dash for Cash Juvenile Stakes
2-yr-olds, 400 yards
Thursday, Oct. 13
$20,000 Guaranteed Arabian Stallion Stakes (G3), Colt & Gelding Division
3-yr-olds & up, one mile
Thursday, Oct. 13
$20,000 Guaranteed Arabian Stallion Stakes (G3), Filly & Mare Division
3-yr-olds & up, one mile
Saturday, Oct. 29

$50,000 Added Lone Star Speedhorse Paint & Appaloosa Futurity (G1)

Trial Date - Friday, Oct. 14

2-yr-olds, 400 yards
Saturday, Oct. 29
$10,000 Added Masterpiece Challenge Paint & Appaloosa Stakes
3-yr-olds, 400 yards
Friday, Nov. 4
$20,000 Added DIAR Texas Lone Star Futurity
c & g, 3-yr-olds & up, 6 furlongs

Friday, Nov. 4
$20,000 Added www.shadwellarabian.co.uk Texas Lone Star Futurity
fillies, 3-yr-old, 6 furlongs
Friday, Nov. 4
$30,000 Guaranteed Dubai International Arabian Races Texas Open Stakes
3-yr-olds & up, 1 1/16 miles
Friday, Nov. 4
$30,000 Guaranteed Shadwell Arabian Stallion Texas Distaff Stakes
f & m, 3-yr-olds & up, 1 mile
Saturday, Nov. 5
$25,000 Guaranteed B.F. Phillips Stakes (RG3)
Texas-Bred 3-yr-olds & up, 400 yards

Saturday, Nov. 12

$400,000 Estimated Texas Classic Derby (G1)

Trial Date - Friday, Oct. 21

3-yr-olds, 440 yards
Saturday, Nov. 12

$1,000,000 Estimated Texas Classic Futurity (G1)

Trial Date - Saturday, Oct. 22


2-yr-olds, 400 yards
Saturday, Nov. 12
$80,000 Estimated Texas Classic Juvenile Stakes
2-yr-olds, 400 yards