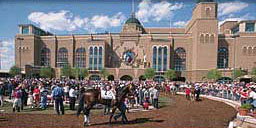 Disabled Jockey Salvador Perez to Receive AmtrykeŽ Therapeutic Tricycle at Lone Star Park Saturday, October 1
(Grand Prairie, Texas - Friday, September 23, 2011) - Jockey Salvador Perez, who was left paralyzed from the chest down after being thrown from his mount past the finish of a Quarter Horse race at Lone Star Park October 16, 2008, will be presented with an AmTryke® therapeutic tricycle prior to the first race at Lone Star Park Saturday, October 1.
30 years old at the time of the accident, Perez underwent surgery four days after the spill to correct damage to his spine. Perez has the ability to move his arms, but unfortunately he did not regain movement in the lower half of his body.
Lone Star Park has teamed up with Grapevine Heritage Ambucs, a non-profit service organization consisting of a diverse group of men and women who are dedicated to creating mobility and independence for people with disabilities, to present Salvador Perez with an AmTryke® therapeutic tricycle. The AmTryke® is hand powered, versus traditional foot powered, enabling Perez to ride again.

These unique tricycles, which can be hand and/or foot operated, are designed to accommodate riders of all ages, sizes, and varying degrees of physical limitations. The fun and freedom of riding your own bike is something everyone should be able to enjoy. Now, thanks to the AmTryke® therapeutic tricycle, even individuals who are unable to operate a traditional bike can finally realize this wonderful experience. Both physical and occupational therapists acknowledge the AmTryke® tricycle's many therapeutic benefits, citing improved motor skills, strength development and self-esteem.

Salvador Perez earned his first career victory at Manor Downs May 11, 2002. From 2,941 mounts, Perez recorded 269 wins, 300 seconds and 300 thirds for $1,871,097 in earnings.