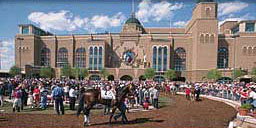 Grade III Lone Star Derby Jumped to $400,000; 32 Stakes Worth $3.525 Million Highlight Lone Star Park's 2008 Spring Thoroughbred Season
Lone Star Park at Grand Prairie's Grade III Lone Star Derby will be worth $400,000 in 2008 as the 1 1/16-mile race for 3-year-olds received a $100,000 boost for its 12th running on Saturday, May 10. All told, Lone Star Park's 2008 Spring Thoroughbred Season will feature 32 stakes events, including five Grade III races, cumulatively worth $3.525 million. The 16-week meeting at the Dallas-Fort Worth area racetrack will commence Thursday, April 10, and will continue for 65 dates through Sunday, July 27.
The Lone Star Derby, scheduled one week after the Kentucky Derby for the sixth time, joins the Grade III Lone Star Park Handicap as the richest race of the meet. It also helps comprise one of six programs that feature multiple stakes events.
The season's centerpiece is Lone Star Million Day - Texas' richest day of racing with stakes purses totaling $1.1 million - to be staged for the 10th consecutive year on Memorial Day, Monday, May 26. Three graded stakes events top the holiday stakes parade: the Grade III, $400,000 Lone Star Park Handicap (3-year-olds and up at 1 1/16 miles); Grade III, $200,000 Dallas Turf Cup Handicap (3-year-olds and up at 1 1/8 miles on turf); and Grade III, $200,000 Ouija Board Handicap (fillies and mares at one mile on turf). The $100,000 Valid Expectations Stakes (fillies and mares at six furlongs); $100,000 USA Stakes (3-year-olds at 1 1/16 miles on turf); and $100,000 Cinemine Stakes (3-year-old fillies at seven furlongs) complete the lineup.
The latter, formerly known as the Stonerside Stakes, was renamed to honor the graded stakes-winning mare Cinemine, who earned $506,681 between 1997-2000. Owned by Nolan Creek Farm and trained by Larry Robideaux Jr., Cinemine was crowned Lone Star Park's Champion 3-year-old Female in 1998 and Champion Older Female in 2000. She also won five Lone Star Park stakes races - a local record shared by Mocha Express.
Saturday, April 26 is Lone Star Million Preview Day with four stakes, topped by the Grade III, $300,000 Texas Mile Stakes (3-year-olds and up at one mile), which serve as local preludes to the Lone Star Million.
Texas-breds and progeny of Texas stallions will be showcased Saturday, July 12 in the eighth annual Stars of Texas Day. The stakes six-pack worth $500,000 includes the $100,000 Assault Stakes (Texas-bred 3-year-olds and up at 1 1/16 miles), which received a $25,000 purse hike for the 2008 renewal.
Other key Spring Thoroughbred Season dates will be simulcasts of the Triple Crown: the 134th Kentucky Derby from Churchill Downs on Saturday, May 3; the 133rd Preakness Stakes from Pimlico Race Course on Saturday, May 17; and the 140th Belmont Stakes from Belmont Park on Saturday, June 7.
Lone Star Park's 2008 Spring Thoroughbred Season will run four days a week every Thursday and Friday at 6:35 p.m. CT and Saturday and Sunday at 1:35 p.m. CT. The Lone Star Million program on Memorial Day will start at 1:35 p.m. CT, and special twilight programs with post-race holiday fireworks on Thursday, July 3 and Friday, July 4 (Lone Stars & Stripes Fireworks Celebration) will commence at 5 p.m. CT.
Reserved seating will go on sale in March. Packages for groups of 20 or more, including luxury suite rentals, are already being booked (call the group sales department at 972-237-5118 for more information).
All told, Lone Star Park will host 96 live racing dates in 2008.
The 31-date Fall Quarter Horse Season will run for 10 weeks from Friday, September 26 through Saturday, November 29. Racing will be conducted Thursday, Friday and Saturday nights at 6:35 p.m. CT through October, with Wednesdays added to the lineup in November. There will be a special 5 p.m. CT first live race on Saturday, Oct. 25 that will immediately follow a simulcast of the 25th Breeders' Cup World Championships from Santa Anita. Also, there will be no live racing on Wednesday, November 26 or Thursday, November 27 due to the Thanksgiving holiday.
Until then, simulcast wagering will continue seven days a week in Lone Star's Post Time Pavilion (except Christmas Eve and Christmas Day). Simulcast wagering also will be offered Saturdays and Sundays on the second floor of the Grandstand - a smoke-free environment with free box seating and private televisions - starting on Saturday, December 29.
2008 Spring Thoroughbred Season
Stakes Schedule
| | | | | | | |
| --- | --- | --- | --- | --- | --- | --- |
| Date | Date | Event | Running | Conditions | Distance | Purse |
| Thu. | April 10 | Premiere Stakes | 12th | TX 3YO & Up | 1 Mile | $50,000 |
| Sat. | April 19 | JEH Stallion Station Stakes | 12th | TX F&M 3YO & Up | 6 1/2 Furlongs | $50,000 |
| Sat. | April 26 | Lone Star Million Preview Day | | | | |
| | | Texas Mile Stakes (Gr. III) | 12th | 3YO & Up | 1 Mile | $300,000 |
| | | Irving Distaff Stakes | 12th | F&M 3YO & Up | 7 1/2 Furlongs (T) | $50,000 |
| | | Grand Prairie Turf Challenge Stakes | 12th | 3YO | 1 Mile (T) | $50,000 |
| | | Richland Hills Stakes | 12th | 3YO F | 6 Furlongs | $50,000 |
| Sat. | May 10 | Lone Star Derby Day | | | | |
| | | Lone Star Derby (Gr. III) | 12th | 3YO | 1 1/16 Miles | $400,000 |
| | | Texas Stallion Stakes (Symie Division) | 5th | 3YO C&G (R) | 1 1/16 Miles | $125,000 |
| | | Texas Stallion Stakes (Got Koko Division) | 5th | 3YO F (R) | 1 1/16 Miles | $125,000 |
| Fri. | May 16 | Ford Express Stakes | 11th | 3YO & Up | 6 Furlongs | $50,000 |
| Mon. | May 26 | Lone Star Million Day | | | | |
| | | Lone Star Park Handicap (Gr. III) | 12th | 3YO & Up | 1 1/16 Miles | $400,000 |
| | | Dallas Turf Cup Handicap (Gr. III) | 12th | 3YO & Up | 1 1/8 Miles (T) | $200,000 |
| | | Ouija Board Handicap (Gr. III) | 12th | F&M 3YO & Up | 1 Mile (T) | $200,000 |
| | | USA Stakes | 12th | 3YO | 1 1/16 Miles (T) | $100,000 |
| | | Cinemine Stakes | 10th | 3YO F | 7 Furlongs | $100,000 |
| | | Valid Expectation Stakes | 12th | F&M 3YO & Up | 6 Furlongs | $100.000 |
| Sat. | June 7 | TTA Sales Futurity (Colts & Geldings Division) | 19th | 2YO C&G (R) | 5 Furlongs | $125,000* |
| Sat. | June 7 | TTA Sales Futurity (Fillies Division) | 16th | 2YO F (R) | 5 Furlongs | $125,000* |
| Sat. | June 14 | Carter McGregor Jr. Memorial Stakes | 12th | TX 3YO & Up | 6 Furlongs | $50,000 |
| Sat. | June 21 | Nevill/Kyocera Stakes | 12th | F&M 3YO & Up | 5 Furlongs (T) | $50,000 |
| Sat. | June 28 | Alysheba Stakes | 12th | 3YO | 1 Mile | $75,000+ |
| Sat. | June 28 | Lone Star Stakes | 12th | 3YO F | 1 1/16 Miles (T) | $50,000 |
| Sat. | July 5 | Lone Star Park Turf Sprint Stakes | 12th | 3YO & Up | 5 Furlongs (T) | $50,000 |
| Sat. | July 12 | Stars of Texas Day | | | | |
| | | Texas Stallion Stakes (Staunch Avenger Division) | 7th | 2YO C&G (R) | 5 1/2 Furlongs | $125,000 |
| | | Texas Stallion Stakes (Pan Zareta Division) | 7th | 2YO F (R) | 5 1/2 Furlongs | $125,000 |
| | | Assault Stakes | 11th | TX 3YO & Up | 1 1/16 Miles | $100,000 |
| | | Allen Bogan Jr. Memorial Stakes | 12th | TX F&M 3YO & Up | 1 Mile | $50,000 |
| | | Harold V. Goodman Memorial Stakes | 12th | TX 3YO | 6 1/2 Furlongs | $50,000 |
| | | Valor Farm Stakes | 11th | TX 3YO F | 6 Furlongs | $50,000 |
| Sat. | July 19 | Bob Johnson Memorial Stakes | 12th | 3YO & Up | 1 Mile (T) | $50,000 |
| Sat. | July 26 | Silver Spur Stakes | 12th | 2YO F | 6 Furlongs | $75,000+ |
| Sun. | July 27 | Middleground Stakes | 12th | 2YO C&G | 6 Furlongs | $75,000+ |
*Estimated purse
+Includes Breeders' Cup monies