1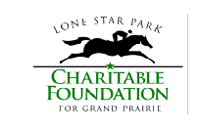 Lone Star Park Charitable Foundation for Grand Prairie Announces Friday, December 5 Date for 2008 Mistletoe Ball
The 2008 Mistletoe Ball, "A Time to Give," which benefits the Lone Star Park Charitable Foundation for Grand Prairie, is scheduled for 7 p.m. on Friday, December 5, 2008 at the Omni Mandalay Hotel in Las Colinas, Texas, it was announced on Wednesday. All proceeds from the event will go to the Foundation, which benefits numerous local charities in Grand Prairie.
"On behalf of the Foundation, we are excited about making this year's event a huge success and are enthusiastic about continuing its great tradition," said 2008 Mistletoe Ball Co-Chairpersons Denise Shubeck and Mindy Hail in making the announcement. "The Mistletoe Ball is a lavish holiday celebration and one of the Foundation's major fundraising events that helps to support many organizations that, in turn, provide valuable assistance to the Grand Prairie community and enrich the lives of its citizens."
The 29th edition of the annual black-tie, holiday fundraising event will include dinner, dancing live and silent auctions, and a raffle for a Rolex watch from Haltom's Jewelers. The Mistletoe Ball is open to the public and sponsorship opportunities for organizations and individuals are available. Music will be provided by the CANTA Rhythm & Brass, featuring singer Lisa Ramirez, who has appeared at Lone Star Park.
The raffle for the Rolex watch, which has a retail value of $8,800, kicks off at Lone Star Park on Saturday, October 25 in conjunction with the simulcast of the Breeders' Cup World Championships from Santa Anita Park in California. The price of the raffle tickets are – Single $40, Double $70 and Triple $100 – and the winner need not be present at the drawing on December 5.
For more information on tickets, sponsorships or the Rolex raffle for the Mistletoe Ball, contact Sharon Ayers at (972) 237-1114.
The Lone Star Park Charitable Foundation for Grand Prairie, a 501(c)(3) non-profit organization established in 2001, provides grants to other charities and non-profit organizations in Grand Prairie for their own important work. Through the generous support of many businesses, organizations and individuals in the Grand Prairie community, the Foundation has distributed $460,000 to raise the quality of life for Grand Prairie citizens.
At the end of each year, the Foundation accepts applications from local non-profit organizations in order to award annual grants.
Since its inception, the Foundation has provided grants to the following organizations -- the Grand Prairie Arts Council; Boy Scouts of America Circle 10 & Troop 507; Boys & Girls Club of Grand Prairie; Brighter Tomorrows; Children First Counseling Center; Crime Stoppers, GPHS & SGPHS; DeLoach Kidz; Disabled American Veterans; Drug Free Youth in Texas; Food & Clothing Co-op; Friends of the Grand Prairie Library; GPISD Education Foundation; Kids in Need of Clothing; Lifeline Shelter for Families; NAACP Grand Prairie Branch; Pregnancy Resource Center of Grand Prairie; SGPHS Robotics Team; Special Olympics, Grand Prairie Pride; United Charities; Wellness Center; and the YMCA.