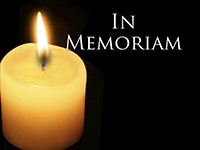 Longtime jockey Raul Ramirez Sr. Passed Away on October 21
(Austin, Texas - Tuesday, October 30, 2012) - Longtime jockey Raul Ramirez, 61, died Sunday, October 21, in San Antonio, Texas. Ramirez was born in Nuevo Laredo, Tamaulipas, Mexico, and was a long-time resident of Laredo, Texas.

A lifelong jockey, in official races Ramirez rode the winners of 147 races from 1,563 starts with earnings of $998,956. Among them were Grade 3 winners Sovereign Bow and Cash Copper.

He is preceded in death by his father, Raul Ramirez Molina; sister, Carolina Ramirez; and grandson, Carlitos Hernandez.

He is survived by his wife, Alicia L. Ramirez; children, Francisco Raul (Nadia) Ramirez, Esmeralda Ramirez, Roger Ramirez, Noralva (Jose) Corona, Patricia (Armando) Fernandez, Rolando (Saira) Ramirez, Raul (Mireya) Ramirez Jr., Rosalva (Ricardo) Martinez, Victoria Ramirez, Ruben (Rebecca) Ramirez and Rafael (Evelyn) Ramirez; 37 grandchildren; mother, Evelia Patino Vda. de Guerra; and siblings, Victoria Madrigal, Evelia Cavazos, Estela Tarango, Domitila Ramirez, Francisca Ramirez, Isidoro Ramirez, Delia Ramirez, Saul Ramirez, Rosalinda Ramirez and Gloria Zamora.

Visitation will be held Wednesday, October 31 from 4:00 -9:00 p.m. and a Vigil of the Deceased will be held at 7:00 p.m. in the Hernandez-Lopez and Sons Northside Chapels, 800 Boston St. at San Bernardo Avenue, Laredo, Texas.
Information from AQHA.com.