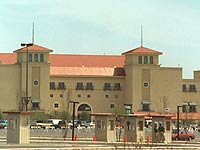 Attention Horsemen: New Entry Schedule and Stakes Purse Increases at Retama Park
Retama Park has announced a new entry schedule for its 2007 Quarter Horse meet that begins on May 4. In addition, the track has announced some stakes purse increases due to the availability of monies from the Cross Species Fund distributed by the Texas Quarter Horse Association (TQHA).
The new entry schedule is as follows:
| | |
| --- | --- |
| Race Day | Entry Day |
| Friday | Saturday |
| Saturday | Wednesday |
| Sunday | Thursday |
The most notable thing is that entries for Fridays races will no longer be taken on Tuesdays. Instead, entries for Fridays will be taken on the preceding Saturdays.
The one exception to this will be entries for opening night, Friday, May 4th. Entries for that race card will be taken on Tuesday, May 1.
Purses for the following stakes have been boosted to the amounts below:
| | |
| --- | --- |
| Stakes | New Purse |
| Ben E. Keith Stakes | $17,500 |
| La Villita Stakes | $17,500 |
| King William Handicap | $20,000 |
| Universal City Handicap | $17,500 |
| Live Oak Handicap | $20,000 |
| Tower of the Americas Handicap | $17,500 |
| Colors of the Wind Handicap | $17,500 |
| San Marcos Handicap | $17,500 |