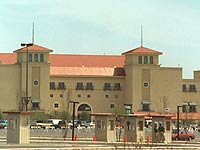 Another Kentucky Derby Superfecta Winner at Retama Park
(Selma, Texas - May 1, 2010) - For the second year in a row, a lucky Retama Park patron cashed a winning superfecta ticket on the Kentucky Derby. The $1 winning ticket returned a handsome $101,284.

When jockey Calvin Borel booted home Super Saver, Eric Samuelson knew he had won. However, the 32-year-old Austin resident said he was "in a state of shock" when he saw the payoff of over $100,000.

Samuelson told Retama Park officials that he will back at work at 7:00 a.m. Monday when he works the early shift at Starbucks. The big winner added that he underwent major neck surgery recently and wears a large brace. He said after waking up on Derby morning, he "felt bad and in some pain," but when the race was declared official Samuelson said, " The pain went away. It was better than Vicodin."

Samuelson's trip to Retama Park was his first to a racetrack in 15 years. He said he will be back to Retama Park for the Preakness in two weeks.