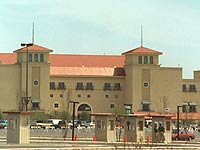 El Jovan and M2 Technology Senorita Stakes to Be Run Over Retama Turf Course on October 15, Training Hours Change
(Selma, Texas - Thursday, October 6, 2011) - Retama Park is happy to announce that the $75,000-guaranteed El Joven Stakes and the $75,000-guaranteed M2 Technology La Senorita - one mile stakes races for juvenile males and females, respectively - will be run on the track's turf course on Saturday, October 15. After inspecting the turf course, Texas Horsemen's Partnership members, jockey representatives, stewards, and track management agreed that it is safe and ready to be used. No live racing has been conducted on the turf course since the beginning of September because of the severe drought conditions and water restrictions in the area.
Retama Park Racing Secretary James Leatherman stated, "With rain, time, and cooler temperatures, we were able to pull it together, and as long as it stays together, we will be able to use it for the last three weeks of racing".
Terry Blanton, the Texas Horsemen's Partnership's Director of Racing, said: "I want to thank all the horsemen for their patience and understanding with this matter. I would also like to thank everyone for their support at Retama's 2011 Fall Thoroughbred Meet." Blanton also added, "One other important piece of information for the horsemen is that as of October 10, 2011, Retama will be changing training hours to 7:00 a.m. – 11:00 a.m."
For further information, you may contact the Retama Park racing office at (210) 651-7043.