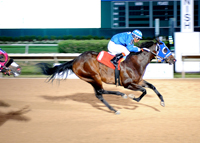 Pandorum
photo by Coady Photography
Track Record Setting Filly, Pandorum, Named Horse of the Meet at Sam Houston Race Park
(Houston, Texas - May 18, 2011) - Sam Houston Race Park announced that Pandorum, a two-year-old filly bred and owned by prominent Texas horseman Joe Kirk Fulton, was named 2011 Horse of the Meet. The precocious and immensely talented filly won both of her races during the 2011 American Quarter Horse meeting, which concluded on March 15.

There have been many horses that run well in trials but cannot replicate that performance in the final. Pandorum, a Tres Seis filly out of the Strawfly Special mare Daring Diversion, was exceptional in both; winning her career debut by 2 1/4 lengths on April 29 as she set the fastest qualifying time in 11 trials run for the $88,740 John Deere Texas Juvenile Challenge. Two weeks later, she returned as the post-time favorite, switching from the far outside to the rail. Pandorum not only won the John Deere Texas Juvenile Challenge, she set a new track record in her victory. Under rider Jose Alvarez, despite drifting out to the center of the racetrack, she stormed to the wire of the 350-yard final in :17.326, demolishing the previous track record of :17.360 set by Hotdoggin on July 27, 2001. Pandorum earned a speed index of 109 in her second career start.

The speedy filly is trained by Lewis "Tooter" Jordan, who was thrilled with her results and confident in her untapped potential.

"She is a phenomenal filly and we are honored that she was named Horse of the Meet," said Jordan. "You cannot take anything away from The Louisiana Cartel who was nothing short of perfect this meet and Jorge's (Haddad) other horse, Jakes Charming Jody, who was also undefeated. Our filly is still learning, but if she gets it all down, there's no telling how far she can go."

Pandorum earned a berth to represent Texas in the $150,000 John Deere Racing Challenge Juvenile Championship (G2) at Los Alamitos Race Course on October 29. But, for now, Fulton has his sights set on Ruidoso Downs. Pandorum is paid into the $2 million All American Futurity on Labor Day and will compete in trials on August 18.

Fulton, a past Texas Quarter Horse Association (TQHA) president was inducted into the American Quarter Horse Hall of Fame & Museum in 2011. Pandorum joins his esteemed list of champions which include 72 stakes winners and homebreds who have earned in excess of $16 million.

Pandorum joins a long and celebrated list of American Quarter Horse standouts who have run at Sam Houston Race Park. Previous juvenile standouts at Sam Houston Race Park include two AQHA world champions: Tailor Fit and Oak Tree Special; Azoom, 2004 champion two-year-old gelding and Kool Kue Baby, the iconic mare who won 24 stakes in her celebrated career.
Luis Vivanco Wins His First Riding Title
Jockeys Luis Vivanco and David Alvarez had separated themselves from the rest of the rider colony from the onset of the meet. In the final weekend, Vivanco surged ahead to clinch his first leading rider title. The 28-year-old jockey was born in Veracruz, Mexico and earned the admiration of many horsemen including Bobby Touchet, Yasmine-Medina Fierro, Abel Morin and Thomas Zarate. He rode 231 horses, winning 46 races, 35 seconds and 37 third-place finishes. Vivanco's mounts earned $297,352 and he finished in the money 51%. Alvarez was second with 44 wins and Luis Ramirez was third in the standings with 28 victories.

"I want to thank God and all the owners and horsemen that supported me in Houston," said Vivanco.

Vivanco is currently ranked fifth in the national AQHA rider standings by wins. His next engagement is set for Retama Park when their 2011 American Quarter Horse meet begins on July 1.
Judd Kearl Wins His Fourth Houston Training Title
Judd Kearl had an exceptional season, winning 26 races from 122 starts and top purses of $462,807 throughout the 30-day meet. Born in Utah, Kearl now calls Madisonville, Texas home and continues to be an ardent supporter of Texas racing. He won his first Sam Houston training title in 2006, and topped all conditioners in 2007 and 2010. In winning his fourth title, Kearl also won the biggest race of his career, the $600,000 Sam Houston Futurity (G2) with Jess Tee Off for owners L.B. Ranch LLC.

"This means as much as the first one," said Kearl. "We've had a better year and the highlight of my year was winning the Sam Houston Futurity with Jess Tee Off."

Kearl won two Challenge stakes as well. He won the $30,015 Merial Texas Distaff Challenge with Ms Riptide for owner/breeder James Cordell and the $52,920 Adequan Texas Derby Challenge with Eyes Blew By You for Felix Jackson.

"I have to give credit to my assistant, Arturo Carillo, who runs the barn here and Brad Mason who takes care of the Remington Park horses, as well as Rodrigo Vallejo," adds Kearl. "Without the grooms, we could not get the results that we do."

Kearl, 36, is appreciative of the support of his owners including Cordell, Mickey Tiner, Kathleen Matey, Paul and Marianne Phllips and Ruben Garcia of LB Ranch LLC.

"I have exceptional owners who trust me," stated Kearl. "None of my success would be possible without their faith and loyalty."
Jorge Haddad Wins Sam Houston Owner of the Meet Title
Jorge Haddad was honored as leading owner title with 10 wins from 32 starts. This was the second title for Haddad who tied with A.D. Maddox in 2009. Haddad, 43, was born in Mexico City and now lives in San Antonio, Texas, and operates a training and breeding operation in Seguin, Texas. One of his racing standouts this meet was The Louisiana Cartel, who Haddad purchased for $90,000 in 2009 at the Ruidoso All America Sale. The four-year-old son of Corona Cartel was undefeated this meet, winning three races at Sam Houston including two graded stakes, the $100,260 Bank of America Texas Challenge Championship and the $50,000 Sam Houston Classic.
"I am really happy with our accomplishments in Houston and winning my second title," said Haddad. "This effort took the work of the entire team, including my rider, David Alvarez and all the help on the farm and at the track. In racing, you cannot do anything by yourself and I am proud to have such an outstanding team."

Haddad has accepted the invitation by Remington Park for The Louisiana Cartel to run in the prestigious $250,000 Remington Park Invitational (G1) on May 28.

Bobby D. Cox and J.B. and Sherrie Morace tied for second with 7 wins and four horsemen were tied with six victories: Joe Kirk Fulton, A.D. Maddox, Filimon Saucedo and Richard McGehee.