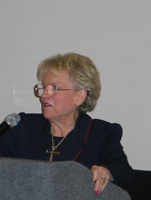 "Seabiscuit" Fundraiser Conducted by Texas Horse Racing Industry for Carole Keeton Strayhorn
Members from the horse racing industry played host to a fundraiser for Texas Comptroller Carole Keeton Strayhorn in San Antonio, Texas on Thursday, July 24. The centerpiece of the event, which attracted approximately 200 people, including Bexar County Judge Nelson Wolfe, was a special premier of the movie "Seabiscuit."

Mrs. Strayhorn addressed the group prior to the screening of the movie and once again stated that Texas should legalize video lottery machines at the state's existing pari-mutuel facilities as a way to raise money for Texas education.
Strayhorn was given thunderous applause when she said that, "Texas racing is good, but it can be better!" Strayhorn went on to state that she felt Texas needed to keep Texas dollars at home rather than losing them to out-of-state gaming options.

The movie, which many in the horse racing industry hope will spark new interest in the sport, also got rave reviews from those attending the event. According to Texas Horsemen's Partnership Executive Director Tommy Azopardi, "It was a great evening, and I think the Comptroller got a good indication of how much the horsemen in our state appreciate her supportive position on VLTs."