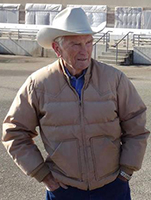 Texas Horse Racing Hall of Fame Horseman Tommy Oliphant Passes Away
(Austin, Texas - May 20, 2014) - Oliver Tom Oliphant "Tommy", 88 of Sabinal, Texas passed away on Tuesday, May 20, 2014. Oliphant was a beloved and well respected horseman and the grandfather of former Texas Horsemen's Partnership Executive Director Tommy Azopardi.
Tommy was born on March 2, 1926 in Matador, Texas, to the late Boone and Ruth (English) Oliphant. He grew up in Uvalde, and at 14, he started galloping racehorses for Mr. E.F. Woodward at the Valdina Farms near Utopia.
During that time he met and married the late Maurine Oliphant on Sept 25, 1943. They were married 68 loving years.
At 18, Oliphant joined the Marine Corp during WWII, serving in the Pacific Islands where, on February 22, 1945, he was wounded on Iwo Jima. He returned home and started training Thoroughbred racehorses in Del Rio, Texas and at racetracks in many other states including the Fair Grounds in New Orleans, Louisiana, where he was the youngest licensed trainer on the track at that time.
In 1959, along with Dr. Dan Saunders, Oliphant built Sunny Clime Farms, where he eventually retired after a blessed and wondreful career as a horse trainer, breeder and owner that spanned over 60 years. Over his career, Oliphant broke and/or gave early training to over 100 stakes winners, including Cox's Ridge (earned $667,172 and won the Metropolitan Handicap-G1, Excelsior Handicap-G2, Oaklawn Handicap-G2, and five G3 stakes), No Le Hace (2nd to Riva Ridge in the 1972 Kentucky Derby-G1), and multiple stakes winner, track record setter, $294,486-earner, and successful Texas stallion Staunch Avenger, who was also inducted into the Texas Horse Racing Hall of Fame in 2002.
Oliphant received many awards, including induction into the Texas Horse Racing Hall of Fame in 2002. He was also a steadfast worker in the Sabinal United Methodist Church in Sabinal. He loved his family, friends, church, and of course his horse racing.

Oliphant is survived by one daughter, Darlene Lou Woodward and husband, Darrel of Spring Branch, TX ; son-in-law, Louis Azopardi of Kyle, TX; grandchildren, Tommy Azopardi and wife, Molly; Robert Wayne Matthews; Rene Hedemann and husband, Keith; and Jennifer Garcia and husband, John; nine great-grandchildren, and numerous nieces and nephews.

Tommy was preceded in death by his wife, Maurine; son, Woody Wayne; and daughter, Tommie Lee Azopardi, along with six brothers and one sister.

Visitation will begin at 8:00 a.m. on Thursday, May 22, 2014 at Rushing-Estes-Knowles Mortuary in Uvalde. The family will greet visitors from 5:00-7:00 p.m. that evening.
Funeral services will be held on Friday, May 23, 2014 at 2:00 p.m. at Rushing-Estes-Knowles Mortuary in Uvalde, with burial to follow in Sabinal Cemetery.

Pallbearers will be Louis Azopardi, Jarrod Azopardi, Kade Hedemann, Danny Pish, Eddie Mathis, and George Driskill.