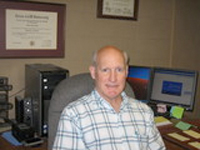 Michael Martin appointed to Texas Racing Commission
(Austin, Texas - November 3, 2010) - Gov. Rick Perry has appointed Michael Martin, D.V.M., of San Antonio to the Texas Racing Commission for a term to expire Feb. 1, 2015. Martin replaces Kent Carter, D.V.M.
Martin is a veterinarian and principal owner of Retama Equine Hospital Inc. He is a member of the American Association of Equine Practitioners, American and Texas Quarter Horse associations, and American and Texas Veterinary Medical associations.

He is also a member of the Texas Equine Veterinary Association Board of Directors. Martin received a bachelor's degree from Southwest Texas State University and both a bachelor's degree and a doctor of veterinary medicine from Texas A&M University.