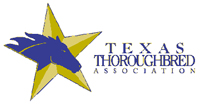 Capitol Rotunda Features Exhibits on Texas Racing and Breeding April 19-21
As part of the Texas Thoroughbred Association's 50th anniversary celebration, a wealth of horse racing exhibits are currently on display on the ground floor of the Capitol rotunda from April 19-21. In addition to the TTA exhibit, other displays will be presented by the Texas Horse Racing Hall of Fame, LOPE Texas (a non-profit organization to find second careers for ex-racehorses), Groom Elite (an education program for racetrack grooms developed by the Texas Horsemen's Partnership), and Texas A&M University's Texas Equine Research Account Advisory Committee. Information will also be available about the Texas Horsemen's Partnership and the Texas Quarter Horse Association.
The TTA exhibit will feature photographs, artwork, trophies and memorabilia from former Texas racetracks G. Rollie White Downs, Bandera Downs and Trinity Meadows, as well as current Texas tracks Manor Downs, Lone Star Park, Retama Park, Sam Houston and the Gillespie County Fair. In addition, a life-size cardboard cutout of Texas jockey Roman Chapa will be set up alongside a full-size fiberglass racehorse with tack.
Also included in the display are framed TTA jockey silks, information on influential Texans who have worked to improve breeding and racing opportunities within the state and a PowerPoint presentation depicting the colorful history of Texas racing. Brochures, as well as magazine articles and press clippings, will be available to explain the member services of TTA and other groups and to educate the public about the Texas Racing Act.