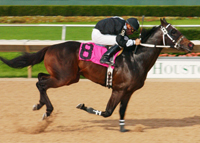 -photo by Coady Photography

Azoom Zoomed to the Wire as the Fastest Qualifier in the $134,748 TQHA Sires' Cup Futurity at SHRP
Houston, Texas (June 20, 2004) - There were a record 12 trials for the $134,748 TQHA Sires' Cup Futurity (RG2) this evening at Sam Houston Race Park. In the fifth race, Azoom, unleashed a powerful rally and won his race in a sizzling :17.475 (350 yards), leaving the rest of the horses in a battle for the nine remaining spots.
Azoom, a 2-year-old colt bred in Texas by Jerry Windham was purchased at the 2003 TQHA Yearling Sale for $62,000 by Enrique Carrion of Veracruz, Mexico. He has been racing in Mexico, breaking his maiden on March 12 and winning four of his five starts. Carrion sent him to trainer Frank Cavazos at Sam Houston Race Park on May 22.
When Cavazos gave his instructions to rider Rodrigo Vallejo, he thought Azoom would run a good race, but was more than pleased with his performance and lightening fast time.
"I've just had the colt for a month," said Cavazos. "He came from Mexico; he ran in the Challenge in Mexico and won. So, I knew the colt could run. He was in quarantine for a while, so all I've been trying to do is put some weight on him. I haven't worked him a whole lot; we've been just taking it easy. Tonight he ran one of the fastest times of the meet. He's a nice colt; I'm really glad I've got him."
The qualifiers included Kathy's Star Quest, winner of the Manor Downs Futurity and Maid it Special, who captured the $98,550 Ford Texas Juvenile Challenge on May 31.
Azoom and the other nine qualifiers will return to Sam Houston Race Park for the finals of the TQHA Sires' Cup Futurity on Saturday, July 3.
Sam Houston Race Park
$134,748 TQHA Sires' Cup Futurity Trials
Trials: Sunday, June 20, 2004
Final: Saturday, July 3, 2004

TWO-YEAR-OLDS 350 Yards
| | | | |
| --- | --- | --- | --- |
| HORSE | JOCKEY | TRAINER | QUALIFYING TIME |
| Azoom | Rodrigo Sigala Vallejo | Frank Cavazos | :17.475 |
| Maid It Special | J.R. Ramirez | Dave Correll | :17.784 |
| Shake Em Fever | J.R. Ramirez | Bobby L. Moore | :17.785 |
| Winning Charisma | J.R. Ramirez | Duane L. Hartsell | :17.805 |
| Gol Tjkal | J.R. Ramirez | Duane L. Hartsell | :17.899 |
| A Scandal | Manuel Garcia | Terry Luera | :17.902 |
| Asking Ashton | J.R. Ramirez | Frank Cavazos | :17.907 |
| Miss Open Spirit | Isaac Chapa | Isidro Hinojosa | :17.946 |
| American Chickie | J.R. Ramirez | Paul Ramirez | :17.976 |
| Tootin Otoole | J.R. Ramirez | Duane L. Hartsell | :17.983 |