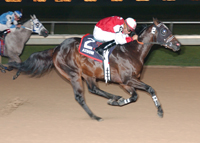 -photo by Christy Smith/Coady Photography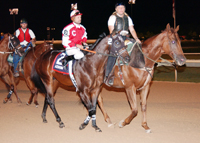 -photo by Coady Photography


-photo by Coady Photography


-photo by Christy Smith/Coady Photography
Trailer Presentation to Frank Cavazos

Fastest Qualifier Azoom Victorious in the $283,422 TQHA Sale Futurity at SHRP
Houston, Texas (August 14, 2004) - Trainer Frank Cavazos was relieved in the winner's circle as his colt, Azoom, broke well and drew off to capture the $283,422 TQHA Sale Futurity (RG1) tonight at Sam Houston Race Park. The annual race showcases 2-year-old American Quarter Horses that were purchased in the TQHA Yearling Sale, held each July at Sam Houston Race Park.
Sent off as the post time favorite, Azoom, under a confident ride from Rodrigo Vallejo, was gaining momentum with every stride and crossed the wire of the 350-yard stakes in a time of :17.402, close to the track record of :17.360.
The 2-year-old colt, bred in Texas by Jerry Windham, was purchased at the 2003 TQHA Yearling Sale for $62,000 by Enrique Carrion of Veracruz, Mexico. He began his career in Mexico, breaking his maiden on March 12 and winning four races in Mexico City before Carrion sent him to trainer Frank Cavazos at Sam Houston Race Park on May 22. Azoom was the fastest qualifier in trials for the $134,748 TQHA Sires' Cup Futurity, but broke poorly and finished second in the finals on Saturday, July 3, 2004.
Following his defeat in the TQHA Sires' Cup Futurity, Cavazos admitted that despite the colt's tremendous speed, he is not the best gate horse. The 45-year-old trainer was hoping for an outside post so he could be one of the last to load. However, he drew the six hole and had to enter the gate first. The rest of the field took their positions with relative ease and when the gates opened, Azoom broke sharply and closed powerfully down the center of the racetrack.
"He ran a great race," said Cavazos. "He's finally starting to relax and didn't beat himself in the starting gate tonight. He's just a great colt."
Vallejo, who has ridden the bay colt in his last three races at Sam Houston Race Park, concurred.
"No problem in the gates," said Vallejo. "He stood real good in the gates and as soon as he broke, he had no pressure; he was always in the lead."
Carrion's investment last year at the TQHA Yearling Sale has been profitable as Azoom earned $113,369 for the victory tonight, boosting his lifetime earnings to $158,767.
"I would like to thank Frank for his hard work," said Carrion. "Azoom is a really, really nice racehorse."
The Bobby Martinez-trained entry of Glimmer Too and High Flyin Charm finished second and third. Owner Joe Gutierrez, Jr. purchased Glimmer Too for $5,700 at the TQHA Yearling Sale; he earned $$56,684 tonight. High Flyin Charm went for $7,000 and picked up a check tonight for $31,176.
J. R. Ramirez qualified three 2-year-olds for the finals tonight, but chose the lightly-raced filly, High Flyin Charm.
"Well, she had run so big in the trials, that I just couldn't let her go," said Ramirez. "She had run the first trial heat of the day and she qualified fourth fastest. And I just thought she was feeling better during the week than the other ones. And I just stuck with her. Everyone told me I was making the wrong choice because it was barely her second out and she broke her maiden in that out, the second time. Today she was acting up a lot. She didn't want to pay attention; she reared up and everything. I kind of hurt my foot a little bit. It was a good thing she got settled down. When she left there, she left ahead of Azoom, but he was just too fast for her, and (she) ended up running third. So I guess I made the right choice. I'm very pleased."
Azoom, who earned a speed index of 103 in tonight's effort, paid $3.40, $2.80 and $2.20 across the board. The 2-1 exacta paid $18.20 and the trifecta with First Place Hipty, the tenth-fastest qualifier, returned $175.60. Completing the order of finish were Kathys Star Quest, Excentric, Stormy Shake, Streakin Miranda, Streakiton Streak dn Perks Prime Plus.
Earlier in the evening, Sam Houston Race Park hosted a dinner and induction ceremony honoring the Quarter Horse recipients into the 2004 Texas Horse Racing Museum. Ben Hudson, founder and publisher of Track Magazine, now in its 29th year, and Anne Burnett Tandy, elected posthumously, owner of 6666 Ranch and founder of the American Quarter Horse Heritage Center and Museum, were the two honorees. The Patricia Link Humanitarian Award was also presented to Dr. Bill Moyer, Professor and Head of Large Animal Medicine and Surgery College of Veterinary Medicine, Texas A & M University.