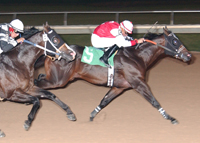 -photo by Coady Photography

Azoom is the Fastest Qualifier for the $350,000 Sam Houston Futurity at SHRP
Houston, Texas (September 9, 2004) - Ten trials were run this evening at Sam Houston Race Park and as he has done throughout the meeting, Azoom was the speediest of all the 2-year-olds. He won his 400-yard trial in a time of :19.843 and will return to the racetrack on Friday, September 24 to compete in the finals of the $350,000 Sam Houston Futurity (G1).
The 2-year-old colt bred in Texas by Jerry Windham was purchased at the 2003 TQHA Yearling Sale for $62,000 by Enrique Carrion of Veracruz, Mexico. He began his career in Mexico, breaking his maiden on March 12 and winning four races in Mexico City before Carrion sent him to trainer Frank Cavazos at Sam Houston Race Park on May 22. Azoom was the fastest qualifier in trials for the $134,748 TQHA Sires' Cup Futurity, finishing second in the final. He was the fastest qualifier in the $283,422 TQHA Sale Futurity (RG1) won that final on August 14.
Regular rider Rodrigo Vallejo was aboard again this evening and prevailed over Bigtime Favorite, trained by John Buchanan. Bigtime Favorite was the second fastest qualifier finishing in :19.929 with Juan Vazquez in the irons. Vazquez returned from a record-setting weekend at Ruidoso Downs in which he won both the All American Derby and Futurity.
Azoom's time of :19.843 was faster that last year's fastest qualifier and eventual Sam Houston Futurity winner, Jack Zee Quick, who won his trial in :19.956.
Live racing at Sam Houston Race Park continues on Friday, September 10 with eleven races including three trials for the $110,000 Sam Houston Derby. Pat Day, one of most revered jockeys in Thoroughbred racing, will make a special appearance at Sam Houston Race Park on Friday, September 10, 2004 to benefit the Racetrack Chaplaincy of America. He will take on Danny Lavergne, the leading American Quarter Horse rider at Sam Houston Race Park in a match race entitled "A Match Made in Heaven". Day will ride Turbo Tex, a 4-year-old son of Runaway Winner, trained by Jesse Yoakum. Lavergne will pilot First Time Streaker, a 5-year-old son of Streakin La Jolla from the barn of William McIntosh.