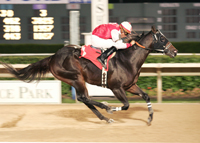 -photo by Jeff Coady/Coady Photography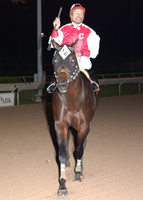 -photo by Coady Photography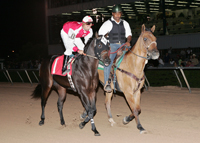 -photo by Coady Photography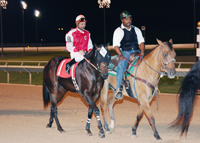 -photo by Coady Photography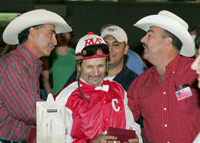 -photo by Coady Photography

Fastest Qualifier Azoom Sets a New Track Record in the $350,000 Sam Houston Futurity at SHRP
Houston, Texas (September 24, 2004) - Azoom, the fastest qualifier in trials for the $350,000 Sam Houston Futurity (G1), returned to Sam Houston Race Park in fine form and set a new track record as he won his fifth race of the meeting. Breaking from the rail under regular rider, Rodrigo Vallejo, Azoom exploded out of the gates and powered to an convincing win, completing the 400-yard stakes in a time of :19.574. The previous record of :19.59 was set by Mr Bar Code on September 9, 2000 in his win in the 2000 Sam Houston Futurity.
As riders dismounted, whether they finished second or tenth, each had a comment and praise for the sheer speed and class of Azoom. The 2-year-old colt is owned by Enrique Carrion of Veracruz, Mexico and trained by Frank Cavazos. Bred in Texas by Jerry Windham, Azoom was purchased at the 2003 TQHA Yearling Sale for $62,000 by Enrique Carrion of Veracruz, Mexico. He began his career in Mexico, breaking his maiden on March 12 and winning four races in Mexico City before Carrion sent him to trainer Frank Cavazos at Sam Houston Race Park on May 22. Azoom was the fastest qualifier in trials for the $134,748 TQHA Sires' Cup Futurity, finishing second in the final. He was the fastest qualifier in the $283,422 TQHA Sale Futurity (RG1) won that final on August 14. Azoom earned $140,000 for tonight's effort, boosting his career bankroll to $300,567.
The running of the Sam Houston Futurity was delayed by several minutes as Shake Em Fever, the only runner in the field to have previously beaten Azoom, flipped in the gates, unseating rider John Hamilton. The horses were backed out of the starting gate while Shake Em Fever was extricated and examined by the State Vet. Azoom was a little agitated while waiting in the gates prior to the incident with Shake Em Fever, but once he was reloaded, he stood calmly and broke extremely well when the bell rang.
Vallejo has ridden the chestnut colt in each of his six Sam Houston Race Park starts and was thrilled with his performance tonight.
"He is a true champion," said Vallejo, who won his second Sam Houston Futurity tonight; his previous title was aboard Royal Shake Em in the 1996 Sam Houston Futurity.
"I didn't know how he would do on the rail," said Cavazos. "But I think he might have liked it. I want to thank God and the owner for letting me train such a good horse. My sister and brothers were here supporting me and watching the race."
When asked if the delay before the running of the Sam Houston Futurity had affected Azoom, Cavazos commented that it might have actually helped his colt.
"He took it like a schooling," said Cavazos. "That's what we do; take him to the gates, stand him and back him out."
"We have a wonderful team," said Carrion. "Frank and Rodrigo have done a great job and Azoom is an amazing colt."
Bigtime Favorite, the second fastest qualifier in trials, closed for second under Juan Vazquez.
"My horse ran a great race," said Vazquez. "That colt (Azoom) was way out there. I think if we had been closer to him in the gate, we might have been closer to him at the end but I would have still been behind him."
Buchanan liked the way the son of Chicks Beduino finished his race.
"He looked like he may not have been going anywhere early then he came on and beat all the rest of them," commented Buchanan.
Dirty But First, ridden by Gilbert Ortiz for trainer Larry Kopycinski, ran third.
"The horse ran a good race," said Ortiz. "He was trying to get out pretty good with me and I just couldn't let him run that good. I think I should have run second, but he kept getting out pretty good and I had to hold him. He did everything right. I told Larry that I thought we could run in the top four. And he ran third."
Azoom earned a speed index of 106 in tonight's victory. He was sent off as the post time favorite and returned $3.00 to win, $2.10 to place and $2.40 to show. The 1-10 exacta paid $7.60 and the 1-10-2 trifecta paid $164.00. Kathys Star Quest, Mito Perry, Shake Em Fever, Sr Spanky, Zoomin Thru, High Flyin Charm and Six a Ben completed the order of finish.
Carrion indicated that Azoom is paid into the Texas Classic Futurity here at Sam Houston Race Park on October 29. He has also earned a berth into the $150,000 Ford Challenge Championship, one of the six MBNA Challenge Championships races to be run here on November 6.