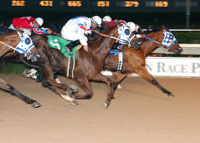 Carlotta Dream
photo by Coady Photography
Carlotta Dream Surprises in the $15,500 Greenspoint Stakes at SHRP
(Saturday, June 19, 2004) - Fillies and mares were featured in tonight's stakes race at Sam Houston Race Park, the $15,500 Greenspoint Stakes. The winner was Carlotta Dream, a 6-year-old daughter of Jody O Toole, owned by Lolida M. Bracewell of Poteet, Texas.
This was the best result of the meeting for Carlotta Dream, trained by Louis "Tooter" Jordan. She was the tenth fastest qualifier in trials for the $26,820 John Deere Texas Distaff Challenge (G3) and finished sixth in the finals on May 31. Jordan made a rider change to Jose Alvarez and she broke extremely well and finished with confidence. The final time of the 350-yard stakes was :17.839.
"In her two previous races, she did not have very good luck," said Jordan. "She got away from the gate very well tonight and that has always been her problem in the past. She's stumbled, looked away or just went into a mode where she didn't know where she was sometimes. Tonight she got away very alertly; Jose put an excellent ride on her. He's been working her in the morning and did a great job for us."
Sing and Pray, from the barn of John Buchanan, rallied for second under rider Mark Page.
"It was a clean, good trip," said Page. "My filly tried to lead real hard and she kind of slipped a little bit. I'm not going to say that's what cost her the win, but all-around, she ran a good race."
"We're real proud of Sing and Pray," added Buchanan. "We think she needs to run a little bit further. She's a great mare, but she just got beat, that's all. She's not going to leave here. We're going to try the Bluebonnet Stakes for fillies; we're just going to keep running her in filly stakes because she's a real sound mare."
Dismissed by the betting public at odds of 17-1, Carlotta Dream paid $36.20 to win, $16.00 to place and $11.80 to show. The 3-5 exacta returned $314.60 and the trifecta with Cassandra Crest, paid $6,056.60. Shakem Cash, Go You Must, Tomorrow's Headlines, Sweet Ribbons, Doin Some Zoomin, Miss Cash Streak and Lavishly Royal all finished in front of heavy favorite, Athena Raquel.