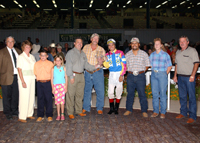 photo by Jeff Coady/Coady Photo
Gone Celebrating Tops the Field in the $60,500 Sam Houston Classic at SHRP
(Friday, August 29, 2003) - Trainer John Buchanan continued to dominate tonight at Sam Houston Race Park as Gone Celebrating captured tonight's feature, the $60,500 Sam Houston Classic (G2). This was the third consecutive stakes win for the 4-year-old son of Meter Me Gone, who captured the Texas Hall of Fame Stakes at Retama Park and the $45,000 Classic Chevrolet Stakes (G3) on July 25 at Sam Houston Race Park.
Gone Celebrating was ridden to victory tonight by Juan Vazquez for owner Bobby Cox of Fort Worth. They nosed out Zookie Street and Dashing Obsession at the wire, completing the 440-yard stakes in a time of :21.827.
"I don't know what to say about him except that he's a really good horse and he's gotten really good this year," said Buchanan. "These are some of the best horses you're going to get in the United States."
"I thought the 10 horse was going to beat me," said Vazquez. "He broke a little late and he's never broke like that before. I thought, 'uh oh, I'm in trouble'. He has a lot of heart. This is a nice horse. It really helps a lot when you have such a nice horse."
Zookie Street , winner of the $82,080 MBNA Texas Challenge Championship (G1) on July 12, ran second for trainer Heath Taylor and rider Gilbert Ortiz.
"He was more nervous tonight than last time," commented Ortiz. "I don't know what it was but he was wound up and didn't relax. Still, he got away good and ran hard, but you can't spot horses like this any advantage and win."
Buchanan will have little time to celebrate as he has several contenders in next Saturday's Sam Houston Futurity and Sam Houston Derby.
"We like our chances," said Buchanan. "Ima Perry Girl is doing really good; we think she has a really good chance in the Futurity and in the Derby, we have Prime Talent and Snow Warning are doing great and we think they'll run well."
Gone Celebrating, sent off at 4-1, paid $10.20, $3.80 and $3.40 across the board. The 6-10 exacta returned $30.00 and the trifecta with Dashing Obsesssion, one of the two Richard Smith-trainees, paid $131.40. Completing the order of finish were Flying Avalanche, Silent Overdrive, Special Hippity Hop, Mr Mallard, Turfinator, Shaky Embrujo and Randys Pop Pop completed the order of finish.