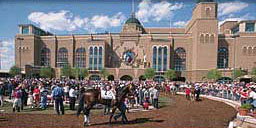 Grade 1 $450,000 Estimated Dash For Cash Futurity Trials Draw 118 Entries in 12 Races Saturday at Lone Star Park
(Grand Prairie, Texas - Thursday, September 25, 2014) - Saturday's Dash for Cash Futurity Trials will display American Quarter Horse racing competition at its best. A total of 118 two-year-olds, have been divided into 12 trials at 400 yards. Each will be vying for a spot in the $450,000-estimated, Grade 1 Dash for Cash Futurity. Only 10 horses with the fastest times from those trials will advance to the final which will be held here on Saturday, October 11.

Watching these young American Quarter Horses compete is always exciting! Most of their racing careers are just getting started. Some have had a total of seven races under their belt and others will be racing for the first time. The most important thing is they each put in their best effort racing at this age. So make plans to come experience the heart-pounding excitement watching these extraordinary animals compete!

A few entries of note in Saturday's trials are:

In race 1 is a filly by Gol to Go out of Raise Awareness, by Illegal Runaway named Victoria Camilla. She deserves a look because of her record. This Wendy Garcia trained filly, owned by Leon Ranch has won her last three starts. Her most recent by a 1 3/4 length margin which is significant in these short races.

Another in the 1st race is Gary & Pat Kurz's Moneys Jody Pop, a gelding by Jodys Money Pop out of Jodys Special Pop, by Jody O Toole has won his last two races. Trained by Toby Keeton, his career record is 4-2-0-2 which puts him 100% in the money from starts.

Trial race 2 has a standout in Grey Daze. Owned by Louis Malechek, III & Frank Benton Butler, this filly by Captain Courage out of Grey Lakes Girl by, Royal Shake Em is three for five in career starts. After winning her trial to the Sam Houston Juvenile Stakes, she was interfered with at the start in the final and while finishing fourth, she was moved up a place to third by a disqualification. Her next two races, both wins were the TQHA Futurity trial and final Grade 2 TQHA Sale Futurity. She is trained by Leon Bard.

Michael S. Amburn's Freakin Runaway trained by Guy Hopkins, sports a career record of 4-2-1-1. A gelding by Ocean Runaway out of Streakin Freakin, by Streakin La Jolla he won his trial to the Sam Houston Juvenile Challenge, but finished second in the final. He then won his trial for the Retama Juvenile Challenge finishing a respectable third in the final.

There are just too many good two-year-olds to mention them all, 118 to be exact.
Richest in the trials is Quic Carter in the 9th race. Owned by Marina Nino and trained byJuan Saucedo, this gelding by Carters Cartel out of Quic Jess, by Seperatist has amassed earnings of over $102,000 for his young career.

Second in earnings is George Mitchell's Great Grace in trial race 11. Trained by G. Blaine Wood, this filly by Apolitical Jess out of Reloaded and Ready, by Shazoom has a bankroll of over $99,000 from a 3-2-0-1 record.

Come out Saturday to watch, wager and win! Gates open at 5:30 p.m. First of 12 races is at 6:35 p.m.
Off the Track Music and Entertainment
The Bud Light Pura Musica Free Concert Series presents David Lee Garza and Texas Latino in concert Saturday after the last live race in our Courtyard of Champions. The concert is free with $5 General Admission. Persons under 18 years of age must be accompanied by an adult at all times.

Additional Notes: Through tonight, the third day into the Fall Meeting of Champions, the leading jockey is Luis Vivanco, with seven wins. Rick Robinson is leading the trainers with three wins, while Jesse Yoakum and Wendy Garcia each have two victories.