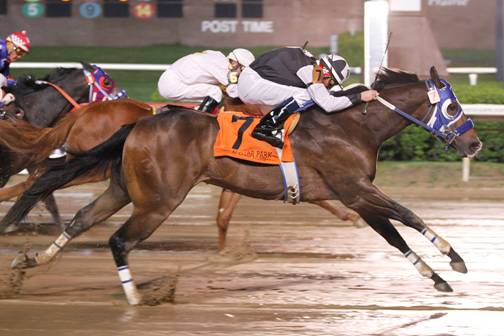 Dynastys First Call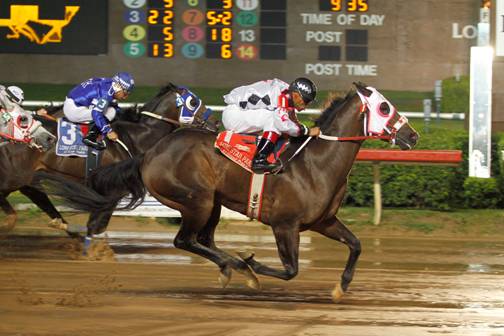 Captain Strawfly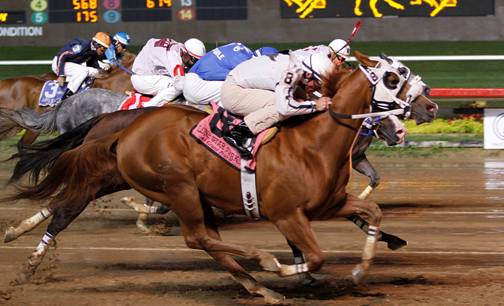 Oh No U Didnt
Dynastys First Call Claims Victory in 16th Grade 1 Dash For Cash Futurity Saturday at Lone Star Park
(Grand Prairie, Texas - Saturday, October 5, 2013) - Johnny Trotter's Dynastys First Call claimed the victory in tonight's 16th running of the Grade 1, Dash for Cash Futurity at Lone Star Park at Grand Prairie. The gelding by Fdd Dynasty earned a speed index of 104 for covering the 400 yards in 19.265 seconds over a sloppy (sealed) track.
Trained by Trey Wood and ridden by Ricky Ramirez, Dynastys First Call broke super quick and held on gamely to win by a neck over favorite, Her O Don Won. Mr Runaway was another three-quarter lengths back in third.

Dynastys First Call returned $13.40, $4.80 and $5.00. Her O Don Won paid $3.20 and $2.40 and Mr Runaway returned $7.00 for the show. Separatists Firstdown, Bye Bye Eagle Eye, Don't Text That, Cruzin and Rey Tiburon Rr completed the order of finish.

J Bar and Thrill Me Baby were both scratched from the race.

This was the first Graded stakes win for Dynastys First Call. With the $163,566 winners share, his career earnings increased to $169,651 and his record reads 4-3-0-1.
Captain Strawfly Wins Impressively in Grade 2 Dash For Cash Derby
Favorite Valiant Lil Lady was not on her game tonight, which made way for Captain Strawfly to claim the winner's share in the 16th running of the Grade 2, Dash for Cash Derby.
Ridden by Esgar Ramirez and trained by Anna Marie Crowson for owner Vicente Contreras, the three-year-old gelding by Captain Courage put in a solid performance finishing strong for the win. Clocking the 440 yards in 21.185 seconds over a sloppy track, he earned a speed index of 102. It was three-quarters of a length back to Hiclass Vodka in second and a neck back to third place finisher, Prince Valleyant.

The effort was rewarded with $64,600 share of the purse, increasing his lifetime earnings to $161,039 and upping his wins to five from 10 starts.

Captain Strawfly paid $10.60, $6.40 and $5.40; second place finisher Hiclass Vodka returned $20.60 and $13.40; and Prince Valleyant paid $7.80 to show. Eyem Unstoppable, Secret Courage, Louisiana Corona, Rc Tres Times Seis, Panther Blurr, Valiant Lil Lady and Diamond Prize.
Oh No U Didnt First in Dash For Cash Juvenile Stakes
Ten-time AQHA World Champion jockey, G. R. Carter, Jr. rode Oh No U Didnt to victory tonight in the 10th running of the Dash for Cash Juvenile Stakes. Trained by Pat Swan, the two-year-old gelding by Heza Fast Dash crossed the wire first to win by a neck over Lethal Corona. It was another head back to Lindsayshadowdancer in third. Final time for the 400 yards was 19.680 over a sloppy track earning a speed index of 96.
Lethal Corona broke on top, but was caught before the wire. It was a game effort and a tight finish for the top three.

Oh No U Didnt returned $7.60, $4.20 and $3.40; Lethal Corona returned $5.60 and $3.00. Lindsayshadowdancer paid $3.80 to show. Icing One Down, Rock Princess, Primero, Mr Victory Six, Big Sky Montana, Jess a Hilbily Bone and Bp Southern Dynasty completed the order of finish.

This was the second stakes win and first graded stakes win for Oh No U Didnt. With the win tonight his record reads 9-5-2-0 and his career earnings climbed to $63,421.