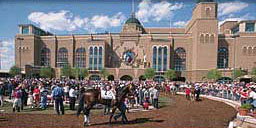 Nucky Top Choice in Dash For Cash Futurity Saturday, Bodacious Eagle Favored in Derby at Lone Star Park
(Grand Prairie, Texas - Thursday, October 8, 2015) - West Texas Futurity winner Nucky, owned by Julie & Denis Schoenhofer and Dale Taylor of Tulsa, Oklahoma, drew post position No. 7 and was made the 7-5 morning line favorite for Saturday night's Grade 1, $448,515 Dash for Cash Futurity at Lone Star Park in Grand Prairie, Texas.

The 400-yard sprint for two-year-old Quarter Horses is one of three stakes races on a nine-race card that begins at 6:35 p.m. Gates open at 5:30 p.m.

Kalah Welch is seeking her first graded win as a trainer. Welch also has Finnick, the 4-1 second choice in the $49,835 Dash for Cash Juvenile Stakes.

Gilbert Aguirre, III is seeking his first Grade 3 Dash for Cash Derby win with three-year-old gelding Bodacious Eagle, the 5-2 morning line favorite in the 440-yard race worth $194,100. Aguirre, III also has two in the Futurity, Famous Little Reba at 12-1 and Volcom Flame at 15-1. My Royal Wagon, trained by Brian Muse, is the 3-1 early choice in the Juvenile Stakes.

The Futurity gets top billing with the presence of Nucky. The two-year-old Dominyun gelding totally dominated with the fastest time of 134 two-year-olds in 14 trial races on September 26. The Texas-bred clocked the 400 yards in :19.619, three-lengths in front of the others in his trial, the 10th of the night, for his fifth victory in as many starts.

Prior to the Futurity trials, Nucky, an earner of $106,094, won the Grade 2 West Texas Futurity. He also won his trial races for the Ruidoso Futurity and the All American Futurity, but failed to qualify for either of those finals.

Regular rider L. Salvador Martinez has chosen to ride Ferarri Gt for trainer Paul C. Jones over Nucky, who will have jockey Omar Reyes take over the assignment.

Only four favorites have won the Dash for Cash Futurity in the 17 previous runnings. Nucky is seeking to be the fifth.

The complete Futurity field from the rail out with (jockey, trial time and morning line odds): She Looks Racy (Manuel Gutierrez, :19.662, 3-1); Ferarri Gt (L. Salvador Martinez, :19.672, 7-2); Django B (Luis Ramirez, :19.861, 15-1); Js Abel Dasher (Jose Vega, : 19.827, 10-1); Sissy Cartel (Luis L. Vivanco, :19.903, 20-1); Dash Don't Cheat (Francisco Calderon, :19.849, 20-1); Nucky (Omar Reyes, :19.619, 7-5); Famous Little Reba (Ricky Ramirez, :19.875, 12-1); Volcom Flame (Ivan Carnero, :19.863, 15-1) and Teves (Jimmy Dean Brooks, :19.869, 20-1).

Post time for the Dash for Cash Futurity, to be run as Race 8, is 9:37 p.m. The Derby will go as Race 7 at 9:11 p.m. and the Juvenile Stakes runs as Race 6 at 8:45 p.m.
AQHA Wranger Racing Ace Jennifer Hancock Returns Saturday
Lone Star Park welcomes Jennifer Hancock back to the track. She will again be on hand throughout the evening sharing expert tips and advice on handicapping American Quarter Horses. She will also co-host a free handicapping seminar with Lone Star Park's own Rick Lee on the first level of the Grandstand. It all begins at 5:30 p.m. Saturday.
Pure Musica Music Concert Series Friday
Friday, October 9 is the second show in the Pura Musica Concert Series, featuring Los Herederos de Nuevo Leon & La Constelacion Nortena performing after the last live race. Gates open at 5:30 p.m. First of nine live races is at 6:35 p.m. Concert is free with $5.00 paid admission until 8:00 p.m. or $12.00 thereafter. Must be at least 18 years of age or accompanied by an adult at all times. Live racing and events presented by Metro PCS.
Around The Track
The third week of the meeting finds Ricky Ramirez, five-time leading jockey at Lone Star Park, atop of the standings with 10 wins - one more than defending champion Luis Vivanco. Cindi Keeton, Leon Bard and Gilbert Aguirre, III all share the top spot in the trainer standings with five victories apiece. Turner Farms leads the owners with three wins.

Test your skills handicapping Quarter Horses by entering the 2015 Quarter Horse Handicapping Challenge Series. There are a total of six contests (three remaining) in this year's series. These contests are free to all Star Player Rewards members, and pre-registration isn't necessary for any contest. As a Star Player Rewards member, you may enter each contest by printing an entry coupon from the kiosk and bringing it to the Bar & Book front desk or the Star Player Rewards center in the Grandstand (live racing only). The wagering format for each contest will consist of placing seven (7) fictional, $2 Win/Place wagers on seven (7) different races from the designated track that will be selected in advance by officials for each contest. In addition to prizes paid out for placing in each individual contest, there will also be a Bonus Purse prize structure. The top twenty (20) players in each contest will be awarded points (20 points to first place, 19 points to second place, etc) which will accumulate throughout the series. The top ten (10) point earners at the end of this year's series will be awarded a share of the $5,000 Bonus Purse.