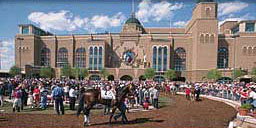 Trials for the Grade 1 Speedhorse Lone Star Paint & Appaloosa Futurity Set for Saturday at Lone Star Park
(Grand Prairie, Texas - Friday, October 16, 2015) - Three trials set for Saturday will decide the field for the Grade 1 Speedhorse Lone Star Paint & Appaloosa Futurity to be run on Friday, October 30 at Lone Star Park. The trials are each at 400 yards and are the scheduled fourth, fifth and sixth races on the nine-race program. Gates open Saturday at 5:30 p.m. First race post time is 6:35 p.m. Post time for the first trial race is 7:53 p.m.

The trials have attracted 21 two-year-old paint & appaloosa horses to compete for the 10 spots available in the Futurity final. The 10 fastest times from the group will advance.

Entries of note in the Speedhorse Lone Star Paint & Appaloosa trials are:
In race four, a two-year-old colt named Bull, owned by Buddy Albin and trained by Jason Olmstead, looks super tough. Bull, by Cartel Success, placed in his last attempt, the Grade 1 Speedhorse Paint & Appaloosa Futurity at Fair Meadows Tulsa last July. In May, he finished third in the Grade 1 Speedhorse Graham Paint & Appaloosa Futurity at Remington Park. His race record is 6-2-2-2, with earnings of $53,879 to date in his young career.

Three-time Grade 1 stakes winner Painted Turnpike, owned by Nolan. D. Pevehouse and trained by Matt Whitekiller, has landed in race five, where he may have found some competition. The nearly undefeated two-year-old colt by Pyc Paint Your Wagon has won all but one second place finish in seven career starts. He has earned $193,163 for his efforts. Though even money in the morning line, he will need to watch out for the horse on the far outside.

Also in race five is Psychedelic Scott, a Grade 1 winner of $102,194. A gelding by Judys Lineage, he was the horse that denied Painted Turnpike that perfect win record. The two have gone head-to-head three times, with Painted Turnpike the victor 2-to-1. Psychedelic Scott is owned by Paint Horse Queens and trained by Dee Keener. Post time for the fifth race is 8:19 p.m.

The sixth and final of the trial races has drawn a couple of competitors of note. Graded stakes winner Paleface Cartel, a gelding by Cartel Success, has won two of six starts and earned $29,975. His graded win was the Grade 2, Tulsa State Fair Stakes last July at Fair Meadows. He is owned by Casey J. Humphrey and trained by Ray A. Enlow.

Also in race six is Jimmy Maddux's Royal Country Snowman, trained by Mollie S. Devereaux. The gelding by Sm Country Snowman has won two of five career starts, earning a total of $22,043. Post time for race six is 8:45 p.m.