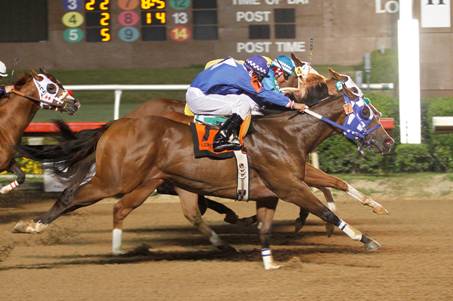 Loves Brown Sugar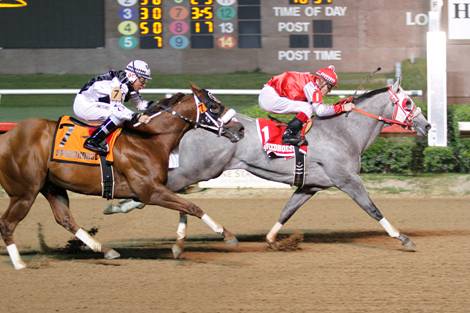 Major Tom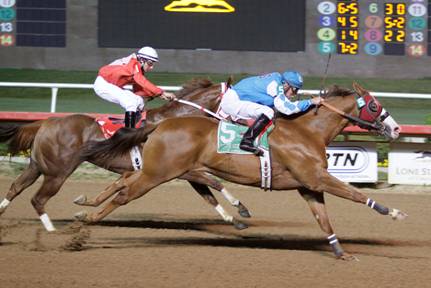 Hesa Sweet First Down
Loves Brown Sugar, Major Tom, and Hesa Sweet First Down Take Stakes at Lone Star Park on Breeders' Cup Saturday
(Grand Prairie, Texas - Saturday, November 2, 2013) - What an exciting finish it was in the 16th running of the $25,000 B. F. Phillips, Jr. Stakes (RG3) Saturday night at Lone Star Park.

Storms forced the cancellation of the final five races last Saturday, October 26, which included the B. F. Phillips, Jr. as one of those scheduled. The re-schedule worked out well for Loves Brown Sugar when the four-year-old mare by Prime Talent, dug in to overtake her opponents at the wire for the victory. Only a nose and a head separated the top three finishers. It was another length back to Nash Jolla in fourth.
Jess a Comment put in a solid performance to take second over Sure Shot B who ran third. Loves Brown Sugar clocked the 400 yards in 19.661 over a fast track, earning a speed index of 93.

Loves Brown Sugar returned $5.40, $3.80 and $2.60. Jess a Comment paid $6.00 and $4.20. Sure Shot B paid $2.60. Nash Jolla, Fiery Cartel, Rebels Prospect, Bz Amazing Grace, and Ja Jess Perfect completed the order of finish.

It was the second victory of the night and of the meet for jockey Cesar Zuniga. He had just achieved his first victory from 40 attempts here thus far, when he won the fourth race this evening.

Loves Brown Sugar upped her race record to 21-8-6-3 and her earnings to $101,615. She is owned by G. Sue Fikes of Hearne, Texas and trained by Kie Mushinski.
Major Tom Victorious in the $89,355 Grade 1 Speedhorse Paint & Appaloosa Futurity
Mary L. Hainline's Major Tom went gate to wire to win the Grade 1, $89,355 Speedhorse Paint and Appaloosa Futurity Saturday night at Lone Star Park.

Ridden by Jimmy Dean Brooks, Major Tom broke very alertly, never wavering to finish a half length better than favorite, Imflashinthechicks. Final time for the 400 yard victory was 19.575, a new stakes record, over a fast track. This was the third Speedhorse Futurity victory for trainer Eddie D. Willis. He trained previous winners in 2009 and 2011.
The two-year-old gelding by Red Storm returned $5.40, $2.40 and $2.10. Imflashinthechicks returned $2.40 and $2.20. Call Him Awesome was third returning $6.40 for the show. Bv Judys Teller, Turbulence, Fly Cb Fly, Judys Clone, Lakota Charlene and Littlemisshonky Tonk completed the order.

Also of note, for his second place finish in tonight's futurity, Imflashinthechicks, owned by Shirley Wheeler, became the 2013 Speedhorse Paint and Appaloosa Triple Crown High Point Champion. He was awarded a $5,000 cash bonus, sponsored by Ramax Farms of Chelsea, Oklahoma for the accomplishment.
Hesa Sweet First Down Takes the Prize in the Masterpiece Challenge Paint & Appaloosa Stakes
Guided by veteran jockey Larry Payne, Hesa Sweet First Down was a game winner tonight in the 2nd running of the $38,045 Masterpiece Challenge Paint and Appaloosa Stakes at Lone Star Park.

The three-year-old gelding by Sweet First Down was second away from the gate, took the lead in mid-stretch from eventual second place finisher, Laus Deo and held on gamely for the half length victory. Final time for the 400 yard contest was 19.782 over a fast track.
Owned by Carole Vann Stacy and trained by Matt Whitekiller, Hesa Sweet First Down improved his career record to 14-5-1-1 and with the $15,960 winners share, increased his earnings to $55,698.

Mutuels returned $9.80, $3.40, $2.40. In second, Laus Deo returned $6.60, $4.00, and Lajollas Mr Big Stuff paid $2.60 for show. Imachickenkicker, Winners Winner, Zoomin Moon, Eyeza Flash and Comanch completed the order of finish.

Additional Notes: Going into the final weekend of racing, jockey Francisco Calderon is ahead with 17 wins over Rickey Ramirez, who has 16 … Trey Wood is holding on to the lead in the trainer standings with 16 wins over Judd Kearl, who has 13. Owner standings have Bobby Cox in the lead by one win.

On The Track: Live racing wraps up for the 2013 Fall Meeting of Champions next week. The final three days of live American Quarter Horse racing are Thursday, Friday and Saturday, November 7, 8 and 9. Featured are the $394,306 Grade 1, Texas Classic Derby and the $1 Million Grade 1, Texas Classic Futurity on closing day, November 9, 2013.