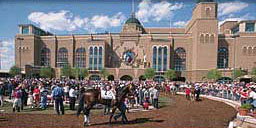 A Win for Texas Silk in Grade 1 Speedhorse Paint & Appaloosa Futurity Saturday at Lone Star Park Will Be Crowning Moment
(Grand Prairie, Texas - Thursday, November 6, 2014) - The Triple Crown for two-year-old Paint & Appaloosa horses is on the line for Texas Silk, winner of the first two legs, and it's down to the final race this Saturday, November 8 at Lone Star Park. The feature and final race of the Triple is the $108,692 Grade 1 Speedhorse Paint & Appaloosa Futurity at 400 yards. Gates open at 5:30 p.m. First race post time is 6:35 p.m. The Speedhorse Futurity is the scheduled ninth race on the 10-race card with a post time of 10:03 p.m. All times are (CT).

Introduced in 2012, the Speedhorse Triple Crown is made up of the following races, the Speedhorse Graham Paint & Appaloosa Futurity held at Remington Park in May, the Speedhorse Paint & Appaloosa Futurity held at Fair Meadows in July, and the final leg is the Speedhorse Lone Star Paint & Appaloosa Futurity at Lone Star Park in November.

The series, now in its third year, has a contender eligible to be crowned in Charles R. Leggett's Texas Silk. The gelding by Texas Six out of Judys Silk, by Judys Lineage, is two-thirds of the way to winning the prestigious and lucrative title. He won the Speedhorse Graham P & A Futurity at Remington Park last May and the Speedhorse P & A Futurity at Fair Meadows in July. And, with a win in Saturday's Futurity, he will race in to history!

Lone Star Park odds maker, Rick Lee has bestowed heavy favoritism on Texas Silk with morning line odds of 7-5, but there are other contenders let us not forget. Second fastest qualifier Cant Be Caught, who was just .035 seconds slower than the favorite in his trial two weeks ago on November 18, has been installed at 2-1. Both are trained by Dee Keener and both were ridden to victory in their respective trial races by Berkley Packer. Packer has chosen to retain the mount on Texas Silk Saturday. Randy Wilson will be the pilot on Cant Be Caught in the race.

The field for the $108,692 Speedhorse Paint & Appaloosa Futurity in post position order with jockey and morning line odds is:
| Horse | Jockey | Odds |
| --- | --- | --- |
| If Ur Buyn Im Flyn | Raul Gutierrez | 5-1 |
| Heavenly Rain | Jimmy Brooks | 30-1 |
| Cocked an Loaded | Ivan Carnero | 10-1 |
| Texas Silk | Berkley Packer | 7-5 |
| Traxxus | Tony Bennett | 30-1 |
| Cat Scratch Dash | Randy Edison | 30-1 |
| Mai Dashing Hero | Luis Vivanco | 15-1 |
| Gitter Dun Turnpike | Jose Alvarez | 15-1 |
| Cant Be Caught | Randy Wilson | 2-1 |
| Southern Snow | Bobby Dow | 15-1 |
Race fans remember, there are only five days of live racing left of the 2014 Fall Meeting of Champions Season for American Quarter Horses and mixed breed racing. The final day of live racing is Saturday, November 15, and aside from closing with the richest race in the state, the $1 Million Est. Grade 1 Texas Classic Futurity, its fan appreciation night.

We want to recognize you, the fans that come for the live racing. And to do that, we will be giving away some great prizes including Mutuel Vouchers, Gift Cards and more! So make plans to be here by 7:00 p.m. on Saturday, November 15 to get your entry form turned in to win! Gates open 5:30 p.m. First race is 6:35 p.m. (CT). Hope to see you here!

On the track: Through the end of racing Thursday, November 6, jockey Luis Vivanco is hanging on tight to the lead in the rider standings 20-18 over Damien Martinez. Brian Stroud is getting pressured on the lead in the trainer standings by Toby Keeton and Judd Kearl. They both are one win behind his 13 with 12 wins. It is still a push for owners Bennie & Terri Jeter and Bobby D. Cox with three wins apiece.