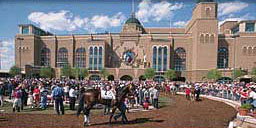 Cant Be Caught Ends Triple Crown Hopes for Texas Silk in Gr. 1 Speedhorse Paint & Appaloosa Futurity on Saturday at Lone Star Park
(Grand Prairie, Texas - Saturday, November 8, 2014) - What could have been the most exciting entry into the Paint & Appaloosa racing history books tonight at Lone Star Park just didn't happen. Triple Crown hopeful Texas Silk, the $0.70-1 favorite to win tonight's Grade 1 $108,692 Speedhorse Paint & Appaloosa Futurity and become the very first Speedhorse Paint & Appaloosa Triple Crown winner, came up short. The night, the futurity victory, and the Triple Crown upset, belonged to Cant Be Caught. And it was a powerful effort.

Owned by John C. Diediker of Parsons, Kansas, Cant Be Caught, a gelding by With Intent out of Unique Form, by Rare Form, was a length and a half behind Texas Silk at first call, but the tables turned - and quickly. By the next call in the stretch, Cant Be Caught had claimed the lead and was able to finish a length in front of Texas Silk at the wire. Southern Snow was next in line by neck for the show.

Final time for the 400 yard futurity was :19.841 over a fast track. A Speed index of 88 was awarded.

With tonight's $41,303 winner's share of the purse, Cant Be Caught increased his bankroll to $86,963. It was his seventh victory from nine career starts. The win was also his second grade 1 victory. He won the Grade 1 Cricket Bars ApHc Futurity on September 27 at Will Rogers Downs.

Mutuels returned $8.20, $2.80 and $2.80. Texas Silk returned $2.20 and $2.10 for place, and Southern Snow returned $4.80 for the show. Gitter Dun Turnpike; Traxxus; Cat Scratch Dash; If Ur Buyn Im Flyn; Mai Dashing Hero; Cocked an Loaded and Heavenly Rain completed the order of finish.

Trained by Dee Keener, Cant Be Caught was ridden to victory by Randy Wilson.
Texas Silk Awarded High Point Champion
All was not lost on Texas Silk Saturday night. Though no Triple Crown honors were bestowed, he earned High-Point Champion honors for accumulating the most points from his efforts in the series. He won the first two legs of races that make up the Speedhorse Triple Crown, the Speedhorse Graham Paint & Appaloosa Futurity at Remington Park last May and the Speedhorse Paint & Appaloosa Futurity at Fair Meadows last July. Among awards for earning High-Point Champion honors was a $5,000 bonus check sponsored by RaMax Farms, plus a trophy and buckle.