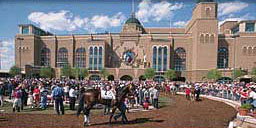 Hopes Are High for Local Owner in the $1 Million Texas Classic Futurity Saturday at Lone Star Park
(Grand Prairie, Texas - Friday, November 11, 2016) - For Irma Z. Vargas of Grand Prairie, the excitement couldn't be higher as Saturday, November 12 approaches and, with it, the 24th running of the $1 million Grade 1, Texas Classic Futurity. It is because she has a stake in the state's richest race, her two-year-old gelding named Maxx.

The third fastest qualifier in the trials, Maxx is the only horse in the field to have previously won a stakes race. The gelded son of 2005 Texas Classic Futurity winner Pyc Paint Your Wagon won the Grade 3 Sam Houston Juvenile Challenge last May.

Though Irma is the listed owner of Maxx, it is the entire Vargas family that he will be carrying the hopes of Saturday. They couldn't be more thrilled to have this chance.

"We were so emotional when he won and got in (qualified)," said Irma's daughter Daisy. "We were all so excited! This is really a big deal for us. Racing has been in our family for as long as anyone can remember. My dad and his brothers would go to the races together. It was a family thing. Plus, my mom's brother trains racehorses in Mexico, so racing is big in our family."

It wasn't until eight or nine years ago that they got into the game as owners. Racing a handful of horses around the state at smaller tracks until last year they decided why not run at the "big track" (Lone Star Park). So they went to the 2015 Heritage Place Yearling Sale, and on the first day of the sale, they saw something special in an unnamed colt out of Bullions N Garters, by Bully Bullion. $22,000 was the maximum they decided would be spent on him, but when the price went higher they decided to continue bidding. It was $25,000 they ended up spending.

Irma's grandsons came up with the name, and the others (she has 14 grandchildren) all agreed, so Maxx it was.

Son, Mario, is who is involved with the day-to-day operation of the family's horse racing business. They currently have four horses in training, all with Rolando Almanza. Maxx is of course, their top horse. The entire Vargas clan has plans to be here cheering him on, hopefully to a big win!

The field from the rail out for the Grade 1 Texas Classic Futurity worth a cool $1 Million is: Koolnfamous (Esgar Ramirez, 2-1); High Plains Perry (Ricky Ramirez, 5-2); Jess Paint Ur Wagon (Luis Vivanco, 15-1); Firing Tools (Larry Payne, 10-1); Midnight Heat (G. R. Carter, Jr., 5-1); So Rapido (Nestor Duran, 20-1); Maxx (Manuel Gutierrez, 8-1); Tough to Bee (Cody Jensen, 12-1) Jimmy Eagle (Ramon Sanchez, 12-1) and Percyjones (Edwuin Lujan, 15-1).
Approximate post time for the Texas Classic Futurity, race 10 on the card is 10:45 p.m.
Wrangler Racing Ace Martha Claussen Returns
Lone Star Park welcomes back Wrangler Racing Ace, Martha Claussen. She returns Saturday to host a pre-race handicapping seminar with Lone Star Park track handicapper Rick Lee. The pair will preview the race card with focus on the featured Texas Classic Futurity, Texas Classic Derby and Texas Classic Juvenile Stakes races. The seminar kicks off at 5:30 p.m. on the first level of the grandstand. Martha will also be on hand throughout the evening sharing expert tips and advice on handicapping American Quarter Horses and offering giveaways. You can also catch her in the Saddling Paddock for previews on the Texas Classic Futurity, Derby and Juvenile Stakes races.
Gates open Saturday at 5:30 p.m. First race post time is 6:35 p.m. The Grade 1, Texas Classic Futurity, the Grade 1, Texas Classic Derby and the Texas Classic Juvenile Stakes will headline the 11-race card.

Saturday, November 12 is closing day of live racing, so we hope to see you here as we wrap up another great Fall Meeting of Champions Season at Lone Star Park.