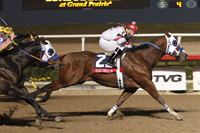 Sure Shot B
Reed Palmer Photography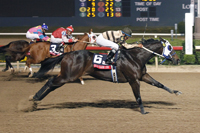 Cold Cash 123
Reed Palmer Photography
Sure Shot B Captures Grade 1, $1.15 Million Texas Classic Futurity at Lone Star Park
(Grand Prairie, Texas - Saturday, November 12, 2011) - Sure Shot B, owned by Charles Forbes, Jr. and Tommy Hays, and trained by John Stinebaugh, proved best in the Grade 1, $1,158,941 Texas Classic Futurity over a fast track at Lone Star Park Saturday night.

With Salvador Martinez in the irons, the Texas-bred son of Stoli, out of the Dean Miracle mare She a Miracle, was sharp from the gate and stayed strong to the finish in covering the 400-yard distance in 19.425 seconds, earning a speed index of 101. Algorithmic finished a half-length behind in second, and it was another half-length back to post time favorite Special Royal Corona in third.

"This was by far the toughest futurity I've ever seen, the overall field of horses," said winning trainer John Stinebaugh. "But first I want to say hi to Jacky Martin (recently injured rider who has won the Texas Classic Futurity a record three times). Without Jacky, this horse might not have made it this far."

Added winning co-owner Tommy Hays, "He had one race where he had a little trouble; otherwise, he's never been beaten when he's left the gate. I want to thank Jacky Martin and John (Stinebaugh). They did a great job bringing this horse along. We thought he was a superstar all along."

In taking home the top prize in the richest race in Texas horse racing, Sure Shot B earned $501,163 to increase his career earnings to $532,213 and improved his race record to five wins from six starts.

Sure Shot B paid $20.00, $8.20 and $6.80, Algorithmic returned $35.20 and $15.60, and Special Royal Corona paid $9.00 to show. The Long Knife, Jess a Comment, Sixes Streak, Fast Prize Jordan, Tee Cos, Linda Tee Fire, and Dm Strait Up completed the order of finish.
Cold Cash 123 Rallies to Victory in Grade 1 Texas Classic Derby
Cold Cash 123, owned by T. Bill Stables Inc. and trained by Dwayne "Sleepy" Gilbreath, overcame a slow start to win the 19th running of the Grade 1, $335,631 Texas Classic Derby over a fast track at Lone Star Park Saturday night.

Ridden by Joe Martinez, the Michigan-bred son of Oak Tree Special, out of the Takin On the Cash mare Hot Cash 123, was a step slow out of the gate but finished fast to complete the 440-yard assignment in 21.168 seconds earning a Speed Index of 103. The Printing Press finished three quarters of a length behind in second, and it was a nose back to I See Candy Paint in third.

"He still didn't break like he should, but they left him a place to run," said winning trainer Dwayne "Sleepy" Gilbreath. "He's a very fast horse when he gets to show it."

With the win, Cold Cash 123 improved his record to eight wins from 13 starts, and the $149,356 winner's share of the purse increased his career earnings to $806,312.

Cold Cash 123 paid $7.00, $4.00 and $3.00, runner-up The Printing Press returned $6.20, $4.40, and I See Candy Paint paid $5.20 for show. Llano Teller, Executive Prince, Endless Ocean, First Prize Stone, Jumpn Shake, Down Rite Royal and Coronas Allure completed the order of finish.
End of Meeting Awards
With six wins, owner A.D. Maddox claimed his sixth owner's title finishing in a tie with Jerry Windham. Weetona Stanley and W.E. Smith finished third with 5 wins.

Trainer Trey Wood compiled 20 victories during the 2011 Fall Meeting of Champions to clinch his third straight training title. Heath Taylor finished five behind with 15 wins while Javier Contreras finished third with 14 victories.

The leading rider for the fourth straight year was Ricky Ramirez with 32 wins. Luis Vivanco finished second with 26, and Rodrigo Vallejo was third with 17.

Texas Classic Futurity winner Sure Shot B was named the Horse of the Meet.

Live racing at Lone Star Park will resume with the 2012 Spring Thoroughbred Season, which begins on Thursday, April 12, 2012.

- Attendance for the 2011 Fall Meeting of Champions showed a slight increase over 2010. 76,021 fans attended the 26-day meeting in 2010 compared to 76,085 fans for the same number of days in 2011.

- On-track handle decreased from $2,417,654 in 2010 to $2,304,379 in 2011, a 4.7% decline.

Additional Notes: The winner of the $93,968 Texas Classic Futurity Consolation was Send Me a Candy Tree, owned by Carl Pevehouse, trained by Clinton Crawford and ridden by Tony Bennett.