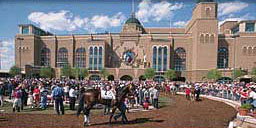 Torts On Fire Lights Up the Board in Texas Classic Futurity on Final Night of Fall Quarter Horse Meeting at Lone Star Park
(Grand Prairie, Texas - Saturday, November 15, 2014) - The Grade 1 Texas Classic Futurity, the richest race in Texas and premier race for two-year-olds at the meeting, always promises excitement, and this year's edition tonight did not disappoint.

It was a blanket finish, and when the photo was deciphered, it was maiden Torts On Fire who had his head in front for the win in the 22nd renewal of the Grade 1 $860,519 Texas Classic Futurity Saturday night at Lone Star Park. Final time for the 400 yard race was :19.843 seconds over a fast main track.

"In the trials, he didn't get away to sharp, but he made a big, big run," said jockey Ricky Ramirez. "Today, he broke the best he's ever broke, and he did it when it counted."

This was the first win from five lifetime starts for the Oklahoma-bred gelding by Walk Thru Fire out of Queen of Torts, by Mr Jess Perry. What a race to break your maiden in! With the winner's share of the purse, he upped his bankroll to $375,779 for his owners Terry and Irene Stennett of Odessa, Texas.
"He's always been a really nice horse," said winning trainer Trey Wood. "He does everything right, and we are happy to be here. He's a maiden no longer."

Off at odds of 12.90-1, Torts On Fire returned a handsome $27.80, $11.60 and $6.80. Second place went to Bay Eagle Glory who returned $7.80 and $5.20. Cc Kachina Eagle returned $4.20 for the show. Cosmo Traffic; Lethal Strike; Moonstruck Love; On the Wagon; Follys Regards and Justmakeitjolie completed the order of finish. Racy Casanova was scratched from the race.

This was the second Texas Classic Futurity win for trainer Trey Wood and jockey Ricky Ramirez. The pair teamed up on Bodacious Dash, winner of the 2010 edition.
Lil Famous Dash Wins Grade 1 Texas Classic Derby in Gate to Wire Fashion
Breaking like a shot fired from the gate under jockey Rodrigo Vallejo, Lil Famous Dash owned the lead and the win in tonight's Grade 1 $291,868 Texas Classic Derby. The filly by One Famous Eagle out of Dash Master Miss, by Dash for Destiny showed the boys how to impress when winning a derby.

Lil Famous Dash, who races for owner Scarlett Hill Farms, Inc. of Weatherford, Texas, completed the 440 yards in :21.632 seconds on a fast track. It was her third win from 10 career starts bringing her total earnings to $141,527. Tonight's victory was her first stakes and graded stakes win.

"The way she got away tonight, I thought they would have a hard time catching her," said trainer Judd Kearl. They did!

For the win, mutuels were $27.40, $11.20 and $9.40. This Eagles Gone finished second and returned $11.00 and $5.80. Rocketair's third place finish was worth $12.60 for investors. Bye Bye Eagle Eye, Ms Fast First Prize, Houdini, Wagon Full of Gold, Separatist Firstdown, Big Dashing Perry and Bay Ba Licious completed the order of finish.

This was the first Texas Classic Derby win for Kearl. He won the Texas Classic Futurity in 2012 with Valiant Lil Lady. It was the second Texas Classic Derby win for jockey Rodrigo Vallejo. He won the race aboard Mr Queens Mystery in 2008.
Another Win for Team Vallejo/Kearl in the Texas Classic Juvenile Stakes with Kitty Kat Galore B
After teaming up for a win in tonight's fifth race on the card, Kearl and Vallejo found the winner's circle again in the seventh, the Texas Classic Juvenile Stakes and the eighth, Texas Classic Derby making it a trifecta for the pair on the closing night program.

In the Juvenile Stakes, their charge, Kitty Kat Galore B, was first to the wire, clocking the 400 yard contest in :20.262 seconds over a fast track. It was the second win from five attempts for the daughter of Fdd Dynasty out of Fast Prize Ginger, by Oak Tree Special. With tonight's win, her earnings jumped to $22,351 for owner Bryon Gardner of New Waverly, Texas.

Win, place and show wagers returned $23.00, $9.20 and $5.80. Second went to Dusty Rusty who paid $25.40 and $10.60. Third went to Rc Me Leaving You, returning $4.60. Cobalt Creek, Politically Correct, Bv the Fireman, Sixes Down, Truly Jacque and The Swagger Wagon completed the order of finish. Brimmerton Chico was a scratch.
Lone Star Park Takes Measures to Assure Integrity of the Sport for Season's Richest Race
In the days leading up to Lone Star Park's richest race of the season, the Grade 1 $860,519 Texas Classic Futurity, officials of the Texas Racing Commission teamed with seven out-of-state investigators and veterinarians to provide a "super security" environment around the qualifying horses and horsemen for the track's biggest race of the year.

"It's a team that has been employed for the Breeders' Cup races and the All American Futurity, so as soon as it was suggested by the Texas Racing Commission, we were eager to collaborate with them," explained Scott Wells, president and general manager of Lone Star Park. "Thanks to the financial support of the American Quarter Horse Association and the good folks at Racing Free, we were able to bring these folks in for this special occasion."

The team conducted searches of stables, vehicles and restricted areas, as well as placing the qualifying horses under close surveillance.

"It's just another way of discouraging anyone from trying to cheat," said Wells. "Horse racing is the most closely-regulated sport in the world. We invented drug testing and video replays long before they were commonplace in other sports. But, as with any sport in which millions of dollars are at stake, some people will try to cheat the system. We have great testing and security in place for all our day-to-day races, but this added level of observation by such accomplished experts is intended to act as an additional deterrent."