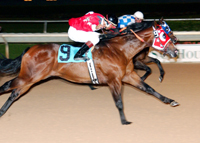 -photo by Coady Photography

Mairis Cartel Breaks His Maiden in the $15,250 Spring Branch Stakes at SHRP
Houston, Texas (June 12, 2004) - Mairis Cartel, a 2-year-old son of Corona Cartel, was the upset winner in tonight's feature at Sam Houston Race Park, the $15,250 Spring Branch Stakes. Owned by BADD Hoss's of Corpus Christi, Mairis Cartel was making just the second start of his career. He ran second on June 4 and trainer James Gerhards had enough faith in his ability that he thought he'd take a shot a tonight's stakes.
"We needed that out last week and were glad to see him run so well tonight," said Gerhards. "They sent him to us from Mexico and said the horse could run."
Rider Danny Lavergne, who has been on a hot streak over the last two weeks, had the mount. Breaking from the fifth post position, Mairis Cartel broke well and was driving down the center of the racetrack. Another Corona Cartel colt, Sailing Cartel, came flying at the wire. A photo finish determined that Mairis Cartel won by a nose. The final time of the 330-yard stakes, over a fast track, was :17.270.
"He was a little excited in the paddock, but once he got on the track, he calmed down," said Lavergne. "He's a super horse to ride. He stood perfectly in the gates and has a really good head on his shoulders."
Six Persimmons, the morning line favorite, finished fourth, but a claim of foul was lodged against Six Persimmons and his rider, Mark Page, by Michael Phillips, the rider of Ponte Bars Kinda Man. Six Persimmons was disqualified and place tenth following a steward's review.
Mairis Cartel, sent off at 11-1, returned $24.80 to win, $12.00 to place and $6.00 to show. The 5-9 exacta paid $253 and the trifecta with Dash Ta Jane returned $2,650. Dash Ta Jane, Strawberry Shakes, Eyes Away, Tuff Corona, Will Munny and Man With Money completed the order of finish.
News and Notes
Jockey Danny Lavergne continues to ride impressively in the 2004 American Quarter Horse meeting at Sam Houston Race Park. Last Saturday, Lavergne won four races on the card, the first time in his 30-year career that he had accomplished that feat. This evening, he did it again, winning the Spring Branch Stakes and three other races.