-photo by Sandra Beck/Coady Photography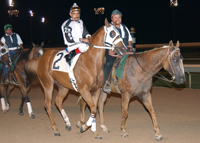 -photo by Sandra Beck/Coady Photography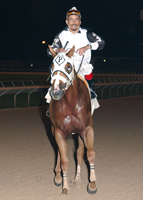 -photo by Sandra Beck/Coady Photography


-photo by Sandra Beck/Coady Photography
Lady Corona Winning the
$10,500 Colors of Houston Stakes

Quick N Special Wins the $40,350 Colors of Houston Futurity at SHRP
Houston, Texas (September 11, 2004) - A field of ten Paints and Appaloosas competed in the 350-yard $40,350 Colors of Houston Futurity. The winner Quick N Special, a 2-year-old filly owned by Jimmy W. Guest of Strawn, Texas and trained by Brandon Parum. The daughter of Royal Quick Flash was the second fastest qualifier in trials run on August 20 and cruised tonight, winning her fifth consecutive race and first stakes of her career. Rider Martin Rubalcava guided the sorrel filly to victory, crossing the wire of the 350-yard stakes in :17.809. Flashing Dee Cash with J. R. Ramirez in the irons, ran second and fastest qualifier, Miss Painted Perry ran third under Sam Houston Race Park leading rider, Danny Lavergne.
Comments From Winning Trainer, Brandon Parum:
"She's a good filly, very easy to train. She won three races at Fair Meadows at Tulsa before coming here. She got a little hot and sweaty when she first came to Texas, but ran well in both of her races. We're going to turn her out for the year."
Comments From Jimmy Guest, Owner of Quick N Special:
"She's really special. I want to thank Brandon and his assistant, Jim O'Neil for doing a spectacular job with this filly."
Comments From J. R. Ramirez, Rider of Flashin Dee Cash, Second Place Finisher:
"The other day in the trials he acted a little bit more nervous, warming up then he reared up in the gate. I don't know if it was his first time running at night, but maybe he didn't have enough experience because he was acting all nervous and all sweaty. But today was a different horse. He warmed up real good and in the gate, he just did perfect. He was just looking at that gate, just ready for them to kick it. When they kicked it, he left there heads up with the winner. When we got back, I noticed he hit himself and cut a quarter. I guess he did that running. He just didn't finish that good, but he did run a good second."
Comments from Danny Lavergne, Rider of Beaten Favorite, Miss Painted Perry:
"She fidgeted a bit it gate and header corrected her a little too rough for her as she does not take rough handling well. That caused her to be a little late leaving the gate. Then we made up two lengths down the stretch. She was really running at the end."