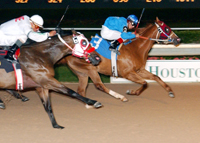 Real Reckless
photo by Coady Photography
Real Reckless Returns to the Winner's Circle in the $15,500 River Oaks Stakes at SHRP
(Saturday, June 5, 2004) - Belmont Day at Sam Houston Race Park attracted a crowd of 10,327 hoping to see Smarty Jones win the final leg of Thoroughbred racing's Triple Crown. Sadly, his quest was denied by Birdstone and racing fans will have to wait yet another year to root for a Triple Crown winner.
Live American Quarter Horse racing continued at Sam Houston Race Park with 2-year-old fillies compteting in the $15,500 River Oaks Stakes. The champion was Real Reckless, owned by Twila Gillum of Baytown and trained by Richard Washington. Gillum spotted the daughter of Reckless Dash at the 2003 TQHA Yearling Sale, which is held annually each July at Sam Houston Race Park. The filly went for just $3,500 at the sale, a nice investment as Real Reckless has won three in a row, including her first stake race. She picked up a check for $9,300 this evening.
Jose Vega had the mount and covered the 330-yard distance in a time of :17.099.
"We had a really clean break and she just went to the front and keeps improving each race," commented Vega.
"Ms. Gillum picked her out at the sale last year and she has trained well," added Washington. "We'll bring her back for the TQHA Sale Futurity trials."
Our Last Lady, at 21-1, trained by Rodolfo Sanchez and ridden by Martin Rubalcava, dueled with the winner, but finished second.
"She broke better than ever," said Rubalcava. "She ran a good race, but I noticed she was coughing a lot when I pulled her up."
"She comes from nice breeding and has a good blood line," commented Sanchez. "She ran good, I think she just started bleeding."
Real Reckless paid $14.40 for the win. The 3-6 exacta paid $246.40 and the trifecta with Paint N Shoot, returned $2,223.40. Mia Cruzin, Streak Foe Me, Howdy Shake, Gol Estie, Tfr Ladies Cartel, Ms Penny Perry, Informants Sexy Lass and Streakin Jennifer completed the order of finish.
News and Notes
Jockey Danny Lavergne has been hot this weekend, winning seven races. Lavergne won three on the Friday night card and four this evening. His hot streak moved him into second place in the Sam Houston Race Park rider standings which is still led by 2002 and 2003 leading rider, J. R. Ramirez.