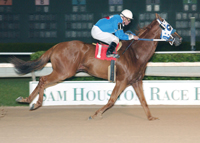 -photo by Coady Photography

Red Dog Leader Goes the Distance in the $13,500 Humble Stakes at SHRP
Houston, Texas (July 17, 2004) - .Trainer John Buchanan saddled a three-horse entry for the tonight's feature at Sam Houston Race Park, the $13,500 Humble Stakes. Red Dog Leader, owned by Buchanan and Bobby D. Cox, was the winner. Mark Page rode the son of Meter Me Gone to victory in the 870-yard race, saving ground along the rail and crossing the wire in :46.468.
This was the first time that Red Dog Leader had attempted the 870-yard distance, but Buchanan gave his rider credit for entering him in tonight's stakes race.
"Mark has worked him several times in the morning around the turn," said Buchanan. "He was the one who told me to put him in the stakes. He's always looked like he wanted to go long; his mother's by Top Avenger; a lot of her offspring can run that far. You never know until you try, but we liked what he did tonight."
"He's always worked super around the turn," said Page. "I really appreciate Mr. Buchanan giving me the opportunity to ride such a great horse."
Buchanan also saddled Boot Scootin Task and Joe Task, two other Texas-bred colts, ridden by John Hamilton and J. R. Ramirez, respectively.
"We really didn't want to run them against each other, but didn't have a choice," said Buchanan. "Red Dog Leader is a horse we have always liked. We'll continue to run him at 870; it may be a little easier on him than the straightaway."
Zachs Hero, with Brian Green aboard, ran second.
"I had an excellent trip," said Green. "I thought I was going to get through on the rail, about half way around the turn, but didn't. I just eased on around him, no big deal. I just got beat by a better horse tonight."
Red Dog Leader ($3.60) earned $8,100 for his victory tonight, increasing his lifetime bankroll to $206,918. Irish Leader was third, Joe Task ran fourth, Boot Scootin Task was next and Bl Reo ran sixth. Seek N Destroy and Reckless Tis were scratched.