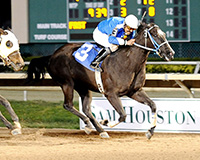 Dashers Midnight
Dash Master Jess Impressive Winner of the $111,780 Bank of America Texas Challenge Championship (G1) at Sam Houston Race Park
(Houston, Texas - Saturday, April 12, 2014) - Trainer Rolando Almarza thought that both of his qualifiers had a good chance of winning tonight's $111,780 Bank of America Texas Challenge Championship (G1) at Sam Houston Race Park. He saddled Sixes Straw, who posted the fastest time in the trials, covering 440 yards in :21.833 seconds as well as ninth fastest qualifier, Dash Master Jess in the final.

Dash Master Jess was bumped in his trial, but had clear sailing in the final and scored, in effortless fashion, for owner Cesar Rosales of McAllen, Texas. With jockey Manuel Gutierrez aboard, Dash Master Jess broke alertly and never relinquished his lead, drawing clear in a final time of :21.742. Despite running into a 20 m.p.h. head wind, the sorrel horse earned a speed index of 102.

The victory was the first Grade 1 stakes for both Rosales and Almarza, who proudly accepted the Bank of America Texas Challenge trophy.

"We hoped for a good break," said Almarza. "I've always believed that this horse could win anywhere. We've been very blessed, and I can't thank my owner enough for giving me this horse."

The four-year-old son of Mr Jess Perry won two stakes earlier this year at Hialeah and earned $51,419 this evening, increasing his lifetime earnings to $270,377.

"I told Rolando on Sunday that I had a dream that we would win this race," said Rosales. "He has done a wonderful job with this horse."

Almarza has been training for ten years and calls Indiana home. He has already won a stake this season at Sam Houston when Mi Angela captured the $20,000 Silestone Stakes on March 28.

"It is a dream come true to win a Grade 1," added Almarza. "He's out of a heck of a mare, Dash Master Miss who has produced winners earning over a half a million dollars."

Second fastest qualifier, Pyro, ran second under Jose Alvarez.. The four-year-old son of Make It Anywhere is bred and owned by Kathleen O Matey and conditioned by Judd Kearl.

"He stumbled out of the gate, but finished well," said Kearl. "I was pleased with his race."

The Field Cricket rallied for third, followed by The Sunday Assassin.

Dash Master Jess ($7.00) will advance to the $350,000 Bank of America Challenge Championship (G1). The 2014 Bank of America Challenge Championships will take place at Prairie Meadows in Altoona, Iowa on Saturday, October 18.
Dashers Midnight Captured the $24,100 Red Cell Texas Distance Challenge
The $24,100 Red Cell Texas Distance Challenge drew a field of seven American Quarter Horses to compete at the distance of 870 yards.

Dashers Midnight, ridden confidently by Santos Carrizales emerged victorious, finishing a length and a half in front of Jessa Little Rusty. The seven-year-old Texas-bred, who ran second in this stakes last year, crossed the wire in :46.345.

"I tried not to get him in trouble," said Carrizales. "It was windy and we had some speed going into the stretch; I opened up a lead and that was the key for me."

James Gerhards trains the distance specialist for breeders and owners Elaine and Joe McAnally of Millsap, Texas. This was the 30th career start for Dashers Midnight. E C Cartel finished third and Pantache completed the superfecta.

"We couldn't feel better about tonight," said Joe McAnally. "We ran second in the final last year at Los Alamitos and hope to do better this year."

Dashers Midnight ($8.80) earned a berth to the $100,000 Red Cell Distance Challenge Championship at Prairie Meadows on Saturday, October 18. He might make another start this meet in the Governors' Cup Marathon and run at Retama Park before shipping to Prairie Meadows, according to Gerhards.