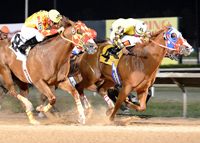 Kool Country Man
Coady Photography
Kool Country Man Pulls the Upset in the $100,260 Bank of America Texas Challenge (G1) at Sam Houston Race Park


(Houston, Texas - Saturday, April 14, 2012) - A field of 11 top older American Quarter Horses competed in the $100,620 Bank of America Texas Challenge Championship (G1) this evening at Sam Houston Race Park.

Kool Country Man sprang the huge upset, taking the lead in the 440-yard stakes and holding off a determined charge by Giorgino. It was the first stakes win for the son of Country Chicks Man, bred in Texas by Ramiro Lopez and Bob Gaston.

It was a proud moment for 23-year-old trainer Jonathan Castaneda, who lives in Houston. He gave the mount to rider Alfonso Lujan, who guided him to the wire in :21.804, earning a speed index of 96.

"This was my first time on him, but I had ridden for Jonathan at Louisiana Downs and he felt my style of riding would fit him," said Lujan. "I went with the instructions, and he put it all together. It was an awesome race."

"We paid him into several derbies last year, but just couldn't get to a final," said Castandeda. "Our plan is to go to Delta and Retama Park, but most importantly, on to Prairie Meadows."

Last year, Jorge Haddad was victorious in the Bank of America Texas Challenge with The Louisiana Cartel, and he had high hopes for his 2012 contender, Giorgino. The 4-year-old son of Apollo, was impressive last year; he he was the fastest qualifier to the $702,000 Ruidoso Derby last June, finishing fourth in the finals to one of the nation's top older horses, Llano Teller. Jockey J. R. Ramirez was closing gamely, but could not catch the winner.

"He got brushed after the break," said Ramirez. "But he was coming at the end."

The Printing Press ran third, followed by The Field Cricket, Royal Invasor, King of the Bunnys, Carry On, Eyes Blew By You, Struttin High, Rapid Transit and Bertha Venation.

Kool Country Man was ignored by the betting public, but rewarded his supporters with a win payout of $51.60. He will advance to the $350,000 Bank of America Challenge Championship (G1) at Prairie Meadows on October. 27. The 4-year-old gelding joins 2012 qualifiers Dash Glory Ease and Rylees Boy with additional regional races to be run through September. Each year, the winner of the Challenge Championship is awarded a berth into Quarter Horse racing's most prestigious race, the $750,000 Champion of Champions (G1) at Los Alamitos.