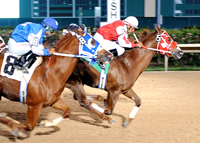 Firstprizegol
Coady Photography
Firstprizegol Captures the $35,400 TQHA Claiming Derby at Sam Houston Race Park


(Houston, Texas - Saturday, April 21, 2012) - Trials were run on April 5 for the $35,400 TQHA Claiming Derby with horsemen able to claim runners for a tag of $7,500. Three claims were made that evening, with a top payment of $14,160 on the line in the final.

However, fastest qualifier Firstprizegol was not part of the claiming frenzy, and his owner Jose Farias was the fortunate recipient of the first place check. The Texas-bred son of Gol to Go made a strong 2012 debut, winning his trial in :17.633 and returning with another strong performance this evening for trainer Cleto Martinez, Jr.

Rider Carlos Castro guided the sorrel colt to victory, with a strong drive over the center of the racetrack, narrowly edging a game effort by Stillwell, who broke strongly from the inside post under jockey Jose Alvarez.

The final time, over a fast track, was:17.616, slightly faster than his clocking of :17.633 in the trials.

"He broke better in the trials but finished stronger tonight," said Castro.

This was the first stakes win for Firstprizegol, who has now won three of his nine career starts.

Stillwell, part of a two-horse entry trained by Don R. Poteet, was the seventh fastest qualifier, and had a much improved performance this evening, finishing second under Jose Alvarez. Eye Am The Man ran third with Luis Vivanco in the irons, followed by Parlay Azoom, Ocean Bank, Miss Hanna Jet, Perry Kremer, Kiss My Episode, Winning on My Mind and B Fly Oscar.