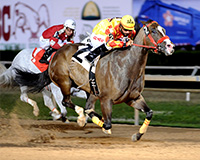 Im A Feature Girl
Im A Feature Girl Flawless in the $29,160 Merial Texas Distaff Challenge at Sam Houston Race Park
(Houston, Texas - Saturday, April 26, 2014) - Jorge Haddad's five-year-old mare Im a Feature Girl is no stranger to the Merial Distaff Challenge Championship. The talented mare ran third in the 2012 final at Prairie Meadows and fourth last year at Los Alamitos. Tonight at Sam Houston Race Park, she punched her ticket for a return visit to Prairie Meadows with an exceptional effort in the $29,160 Merial Distaff Texas Challenge.
With Ricardo Aguirre in the irons, the daughter of Feature Mr Jess broke swiftly to outperform her eight rivals, most notably, the very accomplished Shez Jess Toxic. Im a Feature Girl led gate-to-wire, holding off the late charge of Stoli Angel, to win by a neck. This was the 24th start for the Louisiana-bred mare, and her third win at Sam Houston Race Park. She crossed the wire of the 400-yard stakes in :20.126 seconds.
Jorge Haddad, Jr. saddled for his father and could not have been more pleased with her effort.
"She's had trouble in some of her starts, but today she pulled through," said Haddad. "Shez Jess Toxic is a great mare. We've run against her four times, and last time got beat by a neck. I guess tonight was our turn."
Very few racehorses have hit the board in each of their career races, but fans at Sam Houston Race Park got a chance to see the rare accomplishment when Shez Jess Toxic ran a solid third this evening. The five-year-old daughter of Take Off Jess is bred, owned and trained by Dean Frey and gave a leg up to Sam Houston Race Park's leading rider, Luis Vivanco.

"She broke fine," said Vivanco. "No problems out there."

Im A Feature Girl was sent off at odds of 5-1 and paid $12 for the win. Haddad was unsure of her next start, but said she would definitely represent Texas in the $125,000 Merial Distaff Challenge Championship (G1) at Prairie Meadows on October 18.
Cash N FDD Dynasty Surges to the Wire of the Zoetis Texas Starter Allowance Challenge
The $20,790 Zoetis Texas Starter Allowance Challenge was also contested Saturday evening. The 350-yard race is for Bank of America Racing Challenge-enrolled horses that have started for a claiming price of $5,000 or less within 12 months prior to the sustaining/late payment deadline.

It was another stakes victory for trainer Toby Keeton, who won the richest race of the 2014 Sam Houston Quarter Horse season last Saturday, when Kiss My Hocks captured the $563, 950 Sam Houston Futurity.

Once again, Keeton left the saddling duties to his wife, Cindi and Cash N Fdd Dynasty was a convincing winner under Luis Vivanco. The four-year-old gelded son of Fdd Dynasty left from the far outside post, and flew to the wire in a final time of :17.819 seconds. This was his first win in five starts at Sam Houston Race Park.

Kevin Hogan and Bob McClure co-own the gelding, who was bred in Texas by Mercy Hinklin.

"Toby and Cindi found this horse for us last year, and he has run first or second for us every time," said Hogan.

"He's a game runner and one of the most beautiful horses in the barn," added Keeton.

Cash N Fdd Dynasty was the lone stakes favorite of the evening, paying $3.20 for the win. Call of Duty closed well under Francisco Calderon as the runner-up and Agoutis Smoking Jet ran third.

Hogan said that they look forward to competing in the $75,000 Zoetis Starter Allowance Challenge Championship at Prairie Meadows on October 18.
SS Poker Face Dream Razor Sharp in the $15,000 Texas Twister
The $15,000 Texas Twister, at 110 yards, returned for its sixth renewal at Sam Houston Race Park. Last year's Texas Twister runner-up, SS Poker Face Dream, won the lightning fast sprint, surging to the wire in :6.954.

The four-year-old son of Primetime Dream is trained by Daniel G. Luna and was ridden this evening by Manuel Lara. This was the fifth win from 16 starts for the Texas-bred, owned by Juan Carlos Perez.

"He broke super tonight," said Luna. "This was his best effort. He needed a clean break and that was it. We know he's fast. Manuel has ridden well for us."

Royally Painted out nodded Lets Get Silk for second and morning-line favorite, Bubba Carver, was fourth. The field of ten speedsters included 2012 Texas Twister champion, The Hot List, who holds the track record of :6.736 seconds. The six-year-old son of Streakin La Jolla finished eighth this evening.

SS Poker Face Dream ($14) earned $9,000 for the stakes victory.
Eye Agree Fastest Qualifier in Thursday's Trials for the Bank of America Sam Houston Challenge
Eye Agree ran a career best on Thursday evening in trials for the Bank of America Sam Houston Challenge at Sam Houston Race Park.

Ridden by Santos Carrizales, the Mr Eye Opener filly crossed the wire in :17.904 seconds, to set the fastest time of 25 starters. L.R. "Tooter" Jordan trains for Mark E. Rigby, DVM, and gave his owner plenty of credit for his patience.

"She's a great filly; just a bit of a late bloomer," said Jordan. "Her mama was a three-year-old champion. Dr. Rigby is a gem to train for. He told me to run her where I wanted, and she showed her talent Thursday night."

Michael Amburn's Pyc Paint Your Wagon gelding, Paintedinoil, posted the second-fastest qualifying time under Jose Alvarez. Trained by Guy Hopkins, the three-year-old was clocked in :17.978.

The complete list of Bank of America Sam Houston Challenge finalists can be viewed at stallionesearch.com.