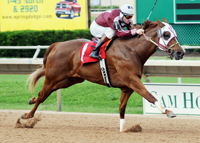 Wowzer
-photo by Coady Photography
Wowzer Won Wows the Crowd in the $20,000 Live Oak Stakes at SHRP on Saturday, May 2
(Saturday, May 2, 2009) - Wowzer Won stunned the crowd in tonight's $20,000 Live Oak Stakes at Sam Houston Race Park. This weekend marked the grand re-opening of Sam Houston Race Park, featuring the return of live racing, the debut of Value Day, and the 135th running of the Kentucky Derby.
The $20,000 Live Oak Stakes, the 10th race on tonight's extended 12-race card, featured a field of nine horses, ages three years old and up, racing 350 yards. The field featured Snowy Alibi as the morning line favorite at 2-1, with Wowzer Won coming in as the second favorite at odds of 4-1.
Wowzer Won broke well from the starting gates, never looking back as she raced to the finish in a time of :17.67 on the fast track. The four-year-old mare was ridden by jockey Russel Hadley, who said, "It was a perfect race."
After a string of second place finishes, Wowzer Won seems to be finding her groove under the workout regimen of trainer Jesse Yoakum and owner Kathleen O. Matey.
"Jesse's got her right where we want her. I ran her a few times last year, and we agreed she's even faster this year than she was last year," commented Hadley. "Last year, every time I ran her, it seemed like she'd have little problems - kind of a trouble pony -but now Jesse's got her 100%, and she's something else."
Wowzer Won paid her betting fans $18.20. The final order of finish for the Live Oak Stakes featured Executive Looks ($4.80) in second and Reba Cleata ($4.20) finishing third, followed by Ace All Star, Snowy Alibi, Ace Zoomin Fancy, Pac N Zoom, Red Maverick Warrior, and Dashing O Toole.
In addition to live Quarter Horse racing events, the Verizon Wireless Summer Concert Series on the Bud Light stage featured 80s rocker Joan Jett & The Blackhearts with special guests The Smithereens at The Showgrounds (www.theshowgrounds.com) immediately following the live racing program.