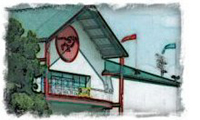 Sweet Oblivion Outfinishes Bertha Venation in the $27,540 Merial Texas Distaff Challenge at Sam Houston Race Park
(Houston, Texas - Friday, May 3, 2013) - A talented field of fillies and mares competed in tonight's feature at Sam Houston Race Park, the $27,540 Merial Distaff Texas Challenge. Sweet Oblivion, a well-bred daughter of Mr Jess Perry continues to show her versatility and commanding running style. Owned and bred by Joe Kirk Fulton, the speedy gray filly set a new 300-yard track record of :15.101 last year at Sam Houston Race Park. She ran second in the Silestone Stakes here on April 8, which set her up nicely for tonight's stakes victory.

With regular rider, Jose Alvarez aboard, the four-year-old filly bobbled coming out of the gate but rallied gamely for the win, covering 400 yards in :20.204 seconds.

"She kind of scared me, stumbling at the start," said her trainer, Mike Robbins. "This mare always gives 100% and does not have any quit to her. She does her best running at 350 and 400 yards, and loves this racetrack."

Bertha Venation, who was last year's Merial Distaff runner-up, had to settle for second again. The six-year-old daughter of Corona Caliente is owned by Jose Luis Salazar and trained by Erika Huitron. She has won nine of her 24 starts, including the $42,000 Merial Texas Distaff Challenge last September at Lone Star Park.

"Unfortunately, she didn't break the way she usually does," said jockey Santos Carrizales. "But she was running at the end."

Sweet Oblivion was sent off at even odds and returned $4.20 for the win. She improved her career record to five wins from 11 starts; three of those at Sam Houston Race Park. Bertha Venation was second by a neck, followed by Baby Wave from the barn of Judd Kearl and Sarah Must, who holds the 350-yard track record here.

Sweet Oblivion will represent Texas in the $125,000 Merial Distaff Challenge Championship (G1) at Los Alamitos on November 9.
DW Runaway B Wins the $24,120 Zoetis Texas Starter Challenge Allowance Challenge
Trials were run on April 13 for the 350-yard Zoetis Texas Starter Allowance Challenge and DW Runaway B won the second trial by a neck, recording the fastest qualifying time of :17.935 seconds. The final was to have been contested last Saturday, but Sam Houston Race Park was forced to cancel its entire card due to heavy storms in the Greater Houston area.

The extra six days had no effect on the four-year-old Ocean Runaway gelding, who powered from his far outside under jockey Luis Vivanco. He passed early leader Freddies Crash, crossing the wire in :17.887 seconds as the post-time favorite.

This was the fourth win from 15 starts for Dw Runaway B, who is owned by Robert Guzman and trained by Manuel Vega Jr.
His connections drew post position ten for the final, but the race was redrawn after last Saturday's cancelation. Fortunately, they drew the far outside post once again.

"We always knew he was better on the outside and liked his post position," said Guzman. "We were worried he wouldn't make it back as strong as he ran in trials, but he ran great. Our plan is to go to Los Alamitos."

Dw Runaway B paid $4.40 for the win, earning a speed index of 87. Longshot Reinin Fire edged Freddie Crash for second and Ocean Bank completed the superfecta.

Guzman indicated that the winner will ship to California to compete the $75,000 Zoetis Starter Allowance Challenge Championship at Los Alamitos on November 9.
The Kat in the Hat is Fastest Qualifier in Trials for the John Deere Texas Juvenile Challenge on May 2
Owner and trainer Jose R. Espinosa of Mission, Texas was hoping for a good effort from Trace Seis in Thursday night's trials for the $25,000-added John Deere Texas Juvenile Challenge. The Tres Seis filly was the fastest qualifier in trials run for the richest race of the 2013 Quarter Horse meet, the $452,800 Sam Houston Futurity (G2).

However, the Texas horseman had a nice surprise with another one of his two-year-olds as The Kat In The Hat won his trial in :17.747 seconds to set the fastest qualifying time. Ten trials were contested on a cold, windy night at Sam Houston Race Park, with temperatures dipping into the high 40s and winds clocked at 25 mph. Thursday's low of 47 degrees tied a record low temperature for the greater Houston area.

"The weather conditions were tough for everyone," said Espinosa. "This horse is a late (April) baby and was kind of green in his last race. But, he showed good speed and really surprised us last night."

The Kat in the Hat was bred by Sherrie Morace and ridden to victory by Cipriano Vidana. Espinosa purchased the son of Red Oak Special at the TQHA Yearling Sale for $4,000.

Cristata recorded the second-fastest qualifying time of :17.828 for owner Filimon Saucedo and his son, Juan, who trains the Texas-bred filly.

A complete list of the ten fastest qualifiers to the John Deere Texas Juvenile Challenge (G3) can be found on stallionesearch.com. The final will take place on Saturday, May 18 and the winner will have an opportunity to represent Texas in the $150,000 John Deere Juvenile Challenge Championship (G2) at Los Alamitos Race Course on November 9.