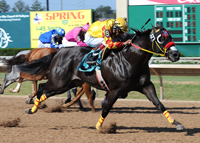 The Louisiana Cartel
-photo by Coady Photography
Classic Day for Trainer Jorge Haddad and Rider David Alvarez at Sam Houston Race Park
(Houston, Texas - Saturday, May 7, 2011) - Today marked the first jewel of racing's Triple Crown, but at Sam Houston Race Park the racing glory belonged to trainer Jorge Haddad and jockey David Alvarez.

In addition to the simulcast of the 137th Kentucky Derby from Churchill Downs this Saturday, Sam Houston Race Park presented eleven American Quarter Horse races.

Haddad and Alvarez had favorites in both the $50,000 Sam Houston Classic (G2) and 43,000 Bank of America Texas Maiden Challenge, and both horses ran exceptional races.

The Louisiana Cartel dominated his rivals in the Sam Houston Classic, drawing off by 1 1/2 lengths in the 440-yard stakes. The four-year-old son of Corona Cartel is owned and trained by Haddad and recorded his third win of the meet this afternoon. He crossed the wire in :21.629 over a fast track.

"I want to thank everyone here for their support and especially Dr. Tommy Hays who operated on this horse as a two-year-old," said Haddad. "This horse had a lot of problems, but was able to overcome them. He is a great horse, and it is easy to train a great horse."

"I am the happiest man in the world to find a treasure like him," said Alvarez of The Louisiana Cartel.

Charal Kid, under Santos Carrizales, ran second and Acorn, who was the runner-up to The Louisiana Cartel in the Bank of America Texas Challenge, finished third. Ms Riptide, Stones Puede, Proud Hawk Beduino, Sophisticated Snow and Zenato completed the order of finish.

"I have to admit that The Louisiana Cartel is a heck of a horse," said Carrizales. "I just wish I could run against him with Easy Dashin Sixes."

Haddad and his business partner, Carlos Lozano purchased The Louisiana Cartel for $90,000. With today's check for $30,000, the Louisiana-bred colt has earned $127,941, winning five of his nine lifetime starts.

Several options are under consideration for The Louisiana Cartel's next start. He will represent Texas in the $350,000 Bank of America Challenge Championship (G1) at Los Alamitos on October 29.

"We might go to Delta or Lone Star or just get him ready for the Bank of America Challenge in hopes of running in the Champion of Champions," said Haddad.
Jakes Charming Jody Keeps Win Streak Alive in the $43,000 Bank of America Texas Maiden Challenge
Haddad and Alvarez also united with another terrific performance from Jakes Charming Jody in the $43,000 Bank of America Texas Maiden Challenge.

The talented three-year-old daughter of Jody O Toole, returned to action and won her fourth consecutive race of 2011. She was the fastest qualifier for this stakes and captured the $80,000 Sam Houston Maiden Classic on March 26.

Owned and bred by Gary Kurz, Jakes Charming Jody was part of a three-horse entry trained by Haddad. She closed powerfully down the middle of the racetrack and won the 350-yard stakes in :17.552, earning a speed index of 102,

Jakes Charming Jody ($2.40) has been a joy for Kurz and Haddad.

"As a 2-year-old she had some problems with her shins," said Jorge Haddad, Jr. in the winner's circle following the victory. "As she has developed and matured, she has been amazing. She has done everything we have asked of her."

Azoom Cash Flow ran second followed by the Haddad-trained Ms Tnt.

An enthusiastic crowd of 10,137 was on hand for live racing and Kentucky Derby festivities including the $500 Kentucky Derby Hat Contest and Mint Juleps.