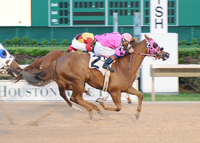 Million Maid
-photo by Coady Photography
Million Maid Wins $15,000 Ikon Stakes at SHRP
(Saturday, May 8, 2010) - Sam Houston Race Park was the place for family fun today on a mild afternoon featuring live racing events highlighted by the $15,000 Ikon Stakes, along with the Inaugural Crawfish Festival ,presented by 106.9 The Point. The nine-race card featured a series of exciting and unpredictable races, including an upset win in the 8th race, the $15,000 Ikon Stakes, as Million Maid ($8.40) broke out the gate rather slow in the 550-yard race but proved that a steady effort could prevail as he passed up favorite JC My Diamond Man and barely beat out Clearing The Way to cross the wire in a photo finish in a final time of :27.55.
The four-year-old, trained by Eusevio Huitron and owned by Jose Ramiro G. Villarreal, provided what jockey Gaspar Garcia said was "a nice ride that proved this horse is one to be watched in future races." He continued to remark that he "felt like the horse was ready for a challenge and the win from the moment they left the saddling paddock, and that's just what we did!"
Final placement for the Ikon Stakes was Clearing The Way in second and Six Moons Streakin in third, followed by Streakin Delacreme, Cash At The Line, JC My Diamond Man, Shineys Magic T, and De Best Effort.
The crawfish were boiling all afternoon and into the evening as part of the event, along with birthday cake for fans to celebrate 106.9 The Point's 10th birthday. The Verizon Wireless post-race concert series on the Bud Light side stage kicked off the afternoon as the Texas Brass Band, a 10-piece band, had people dancing as soon as gates opened. The fun continued with zydeco bands The Texas Prince of Zydeco and Leroy Thomas & The Zydeco Roadrunners performing a variety of high energy dance tunes for the crowds of people into the evening.