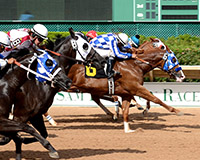 DB Captain King and Raising Kain dead-heat.
Dead-Heat Between DB Captain King and Raising Kain in the Adequan Texas Derby Challenge Closes Out the Sam Houston Race Park 2014 Quarter Horse Meet
(Houston, Texas - Sunday, May 11, 2014) - Sam Houston Race Park's American Quarter Horse meet concluded today with an excellent card featuring two Bank of America Challenge stakes races. There was an exciting dead-heat between DB Captain King and Raising Kain in the $58,860 Adequan Texas Derby Challenge. In the second stakes of the final day of the meet, Million Dollar Kiss was a convincing winner in the $68,490 John Deere Texas Juvenile Challenge.
DB Captain King and Raising Cain Cross the Wire in Unison in the $58,860 Adequan Texas Derby Challenge
In one of the most exciting finishes of the 2014 Sam Houston Race Park Quarter Horse season, two finalists could not be separated by the photo finish camera. Officials deemed that DB Captain King and Raising Kain finished in a dead-heat in the $59,850 Adequan Texas Derby Challenge.

DB Captain King, owned and bred by Dude Biggs, was the fastest qualifier in trials run on April 18. The three-year-old gelded son of Captain Courage was ridden by Santos Carrizales, breaking cleanly and winning the 400-yard final in :20.151 seconds. Pete Scarmardo's homebred Raising Kain, with Francisco Calderon in the irons, crossed the wire in the same time; both earned speed indexes of 92.

It was a jubilant winner's circle celebration as trainers Leon Bard and "Tooter" Jordan are close friends and stable together at all of the Texas racetracks.

"This horse had surgery after he came back from California," said Raising Kain's trainer, Bard. "We weren't sure he would be ready, but paid him into this race and he couldn't have run better."

Jordan was equally pleased with the effort of DB Captain King, who is now four for eight in lifetime starts.

"The horse got away really well," said Jordan. "He lugged in a little in the final strides, which might have cost him, but he ran a good race, I'd like to say a special thanks to Dude Biggs, who is 95 years old and is watching today. We've got a ticket to the dance, so we'll go to Prairie Meadows."

Neither Bard or Scarmardo had confirmed plans for Raising Kain, but Iowa is definitely the long-term goal.

"We were happy to win the (John Deere) Juvenile last year with Raising Cain," said Scarmardo. "It will be a thrill to try for another championship as a three-year-old."

Sent off as the post-time favorite, DB Captain King returned $3.00 for the win. Raising Kain, at odds of 5-1, paid $5.00. Eagle Money Pop, owned and bred by Johnny Trotter ran third and Time for Jesse Lee completed the superfecta.

Both three-year-olds earned a berth into the $200,000 Adequan Derby Challenge Championship (G1) at Prairie Meadows on October 18.
Million Dollar Kiss Posts Sharp Win in the $68,490 John Deere Texas Juvenile Challenge
Trainer Vicky McIlvain got a perfect Mother's Day gift this afternoon at Sam Houston Race Park when Million Dollar Kiss delivered a super performance in the $68,490 John Deere Texas Juvenile Challenge (G3).

Owned by Jerry Chapman of Waco, Texas, Million Dollar Kiss made her debut on March 18 at Louisiana Downs. She ran eighth, but once she united with rider Alejandro Medina, she began racking up the wins. Today's victory was the third in a row for the Jess Louisiana Blue filly.

"We've been proud of her," said Espinosa. "Her debut was heartbreaking, but she didn't have her rider. Alejandro fits her perfectly."

Medina crossed the wire of the 350 yard final in :18.047 into a 18 mph head wind.

Chapman proudly accepted the trophy and shared that his filly is just beginning to peak.

"She started getting into gear, and I knew we had it won," added Chapman. "I think she will be great at 400 or even 440."

Freakin Runaway, the second-fastest qualifier from trials, closed well from the far outside post under Juan Francisco Garcia, Jr. Fastest qualifier Red Corona Warrior finished third, but was disqualified due to interference at the start, and placed ninth by the stewards. Grey Daze was placed third, followed by Corona Blast.

Million Dollar Kiss will advance to the $150,000 John Deere Juvenile Challenge Championship on October 18 at Prairie Meadows in Altoona, Iowa.